What is the ideal humidity needed to help maintain hardwood flooring?
Posted by:
SawHorse, Inc.
// SawHorse Design + Build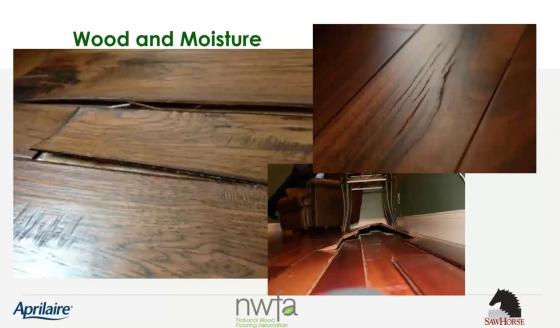 I got a question from a webinar that I co-hosted with Aprilaire and the National Wood Flooring Association.
The question related to 'what is needed to maintain a good relative humidity to help preserve a maple wood floor.'

One of the co-hosts, Brett Miller, answered from the perspective of the wood flooring industry:
"...you will need to try and maintain a consistent temp and RH from season to season. The temp should be somewhere between 60-80F, and the RH should be somewhere between 30-50%.
This may vary depending on the climate you are in."

As a builder in the SouthEast, we aim for between 40-60% relative humidity (RH) because that is closer to the ideal comfort zone for humid climates. In colder climate zones with harsh winter or arid climate zones, 30-50% RH might be more realistic if the structure is not very air-tight.
With regards to equipment. The AC will do most of the heavy lifting during the Summer months. When the thermostat is NOT calling for cooler air, a supplement dehumidifier will remove the excess humidity.
Before we even start designing the mechanical systems, we always plan to upgrade the insulation and create a tight air seal otherwise;, the dehumidifier could be running most of the year, which is not ideal.
If you need to add humidity to the air, then a humidifier added to your central HVAC system is a great choice to help in the dryer months. This will help prevent floors from cracking and noses from drying.
To protect the structures' finishes, including the hardwoods, it is best to maintain a consistent temperature and humidity level. This is great for the occupants as well!
To view the video, Humidity, Hardwoods, and Homes, The Building Science Approach to Protecting Your Investment, click below. This link will also lead you to a summary of the information presented.
Please be kind and respectful!
Please make sure to be respectful of the organizations and companies, and other Rate It Green members that make up our community. We welcome praise and advice and even criticism but all posted content and ratings should be constructive in nature. For guidance on what constitutes suitable content on the Rate It Green site, please refer to the User Agreement and Site Rules.
The opinions, comments, ratings and all content posted by member on the Rate It Green website are the comments and opinions of the individual members who posts them only and do not necessarily reflect the views or policies or policies of Rate It Green. Rate It Green Team Members will monitor posted content for unsuitable content, but we also ask for the participation of community members in helping to keep the site a comfortable and open public forum of ideas. Please email all questions and concerns to admin@rateitgreen.com