USGBC to Fund 500 LEED Professionals in Underserved Communities as Part of "All In" Equity Program and Strategy

Allison Friedman
MA, United States
0 Ratings
99 Discussions
131 Group posts
Posted by:
Allison Friedman
// Rate It Green Admin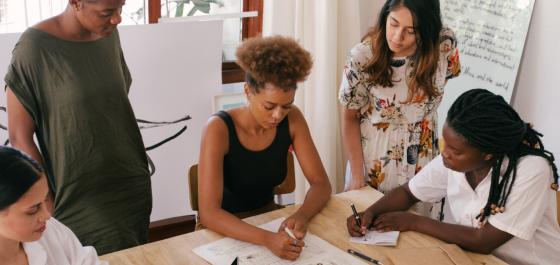 Announced at the annual Greenbuild Conference and Expo this past week, the United States Green Building Council (USGBC) plans to provide funding for 500 people in underserved communities to earn the LEED professional credential. A key goal is to help build capacity and expertise for green building, as a part of the USGBC's "All In; Building Equity Together" initiative, also announced at the start of Greenbuild.
According to Mahesh Ramanujam, president and CEO, USGBC, Green Business Certification Inc. (GBCI) and Arc, "Green building and equity go hand-in-hand, and we know that addressing and emphasizing sustainability through green building can provide communities with resources and opportunities that can help them reach their full potential. At USGBC, we believe that a sustainable future is meaningless without an equitable future. When we say USGBC is 'all in,' we mean we are committed to taking inclusive action to empower all people to reach their full potential and improve their standard of living regardless of race, class, gender, ability, age, health or economic status."
USGBC All IN will focus on social, health and economic disparities through green building. The current, draft strategy outlines 12 priorities and commitments. USGBC will solicit feedback on this strategy from key stakeholders and plans to release a final strategy in the first quarter of 2021.
All In will work to engage member companies, organizations, project teams and individuals in sharing progress and lessons about how green building can play a role in addressing equity challenges. Rate It Green will be ready to promote learnings and success stories that result from these efforts, so they can support growth and serve as an example for others to follow.
USGBC announced plans to create an equity program at Greenbuild, 2019, and in May the organization committed to accelerating equity work as part of a new economic recovery strategy, Healthy People in Healthy Places Equals a Healthy Economy. This past summer, USGBC hosted a series of Equity Summits to invite input and insights from leaders both within and outside of the green building community. According to Ramanujam, "The conversations pushed us to not only focus on recognizing leaders but finding ways to both ensure equity is embedded in everything USGBC does and to provide the tools and resources to help ourselves and others become effective allies and partners."
USGBC is currently seeking feedback on several priorities outlined in the draft strategy that include:
Make LEED more accessible through Arc for All. USGBC will offer Arc for free to projects from underserved and underrepresented communities to meet them where they are and help them take the incremental steps towards LEED certification.
Evolve equity strategies in LEED. USGBC will refine and enhance the LEED intent, pilot credits, credits, regional priority credits and the integrative design process to ensure projects pursuing LEED certification prioritize and implement inclusive design, construction and operational strategies.
Educate and develop a new workforce of green building leaders. USGBC will develop new credentials and certificates, commit to strengthening its current credentials and approach to equity and undertake an effort to build capacity for current and future credentials (including the LEED Green Associate and LEED AP) for those from underserved and underrepresented communities.
Transform USGBC internal governance. USGBC will review and transform its governance structure including its board and committees, and the policies by which it operates, to include and empower those who have not historically been able to participate in shaping the vision for USGBC, GBCI and LEED. USGBC will also establish CEO Advisory Councils around the world to advise and support USGBC's CEO on how to evaluate, evolve, implement and grow USGBC All In.
Conduct research. USGBC will conduct periodic research and public opinion surveys to understand the effectiveness of All In, overcome any inherent biases and to ensure that more voices are included.
USGBC's draft equity strategy is available for review and feedback can be submitted online.
At Rate It Green, we are excited to see this commitment to equity on the part of USGBC. We hope the organization will be an active participant in efforts to not only grow the LEED program and associated credentials, but also to raise green building, healthy building, and energy efficiency and electrification awareness to the widest audience possible. USGBC and the organization's membership have the capacity to play a tremedous role in ensuring that everyone has the opportunity to live more comfortably, safely, healthily, and sustsinablly.
For more information:
https://www.usgbc.org/articles/usgbc-fund-500-leed-professionals-underserved-communities-build-green-building-expertise
Please be kind and respectful!
Please make sure to be respectful of the organizations and companies, and other Rate It Green members that make up our community. We welcome praise and advice and even criticism but all posted content and ratings should be constructive in nature. For guidance on what constitutes suitable content on the Rate It Green site, please refer to the User Agreement and Site Rules.
The opinions, comments, ratings and all content posted by member on the Rate It Green website are the comments and opinions of the individual members who posts them only and do not necessarily reflect the views or policies or policies of Rate It Green. Rate It Green Team Members will monitor posted content for unsuitable content, but we also ask for the participation of community members in helping to keep the site a comfortable and open public forum of ideas. Please email all questions and concerns to admin@rateitgreen.com