Timberland walks the extra mile to end plastic waste

Kalyani.rc
0 Ratings
29 Discussions
14 Group posts
Posted by:
Kalyani.rc
// Passive House / Sustainability Enthusiast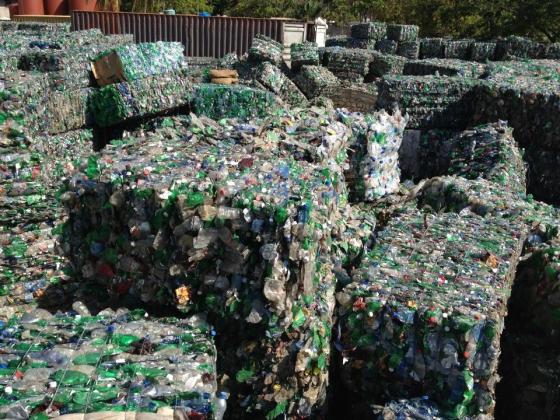 Footwear manufacturer Timberland is walking a mile in the shoes of people whose lives are affected by trash pollution — at least, the "first mile" — through its partnership with B Corporation, Thread International.

Thread transforms trash that has been collected and sorted by local workers in Haiti — where mounds of plastic bottles clogging waterways are a common sight — into fabric sourced by brands such as Timberland, which is developing a line of sneakers ($80) and boots ($160) made with Thread's "Ground to Good" fabric. The line will launch in the spring.

According to Thread's 2016 impact report, Timberland's inaugural materials order has saved 30.5 million gallons of water (compared to all-cotton canvas), averted the use of more than 15,000 pounds of pesticides and helped recycle more than 765,000 bottles.

Ian Rosenberger, Thread's founder, discussed his "One Great Idea" at the GreenBiz 17 conference in Phoenix, Arizona. He explained that companies usually focus on the "last mile" of the manufacturing process, in which items are shipped and sold to the customer. But the "first mile" — where materials for clothing are grown, collected and sourced — is a supply chain that encompasses millions of people whose wellbeing is largely ignored.

"Recycled materials do not equal good 100 percent of the time," said Rosenberger in a conversation with Timberland's Manager of Environmental Stewardship, Zachary Angelini. "If it's untraceable, it's risky. Thread offers transparency in the recycled supply chain from the very bottom — including the names of people touching it, their stories and why their lives are different."

An unregulated source of recyclable material can encourage unethical practices in poor communities where income is scarce, Rosenberger said, so Thread "entered the market deliberately, knowing that there were no programs that tackled child labor in recycling. Timberland [understood] that right away, so they were a great first brand for us."

A steel-toed business case:
Around the same time five-year-old Thread was starting to scale up from working with smaller labels, Timberland was having a "brand identity crisis," according to Angelini.

Timberland built its brand with an eye towards environmental stewardship. For example, its iconic leather Earthkeeper boot, made from sustainably sourced materials, is so successful that production represents 80 percent of the company's footwear product line. And its stated environmental goals for 2020 include incorporating recycled, organic and renewable material into 100 percent of its footwear, including completely PVC-free components.

"Shouldn't all of our products stand for something, rather than just one product line?" said Angelini. "We have been turning from minimizing negative impacts to strategically providing positive impacts and thousands of economic opportunities in the developing world."

Storytelling, he said, was an important way to engage customers. "In our consumer insight studies, we saw that people want human stories, and that you have to do ESG [environmental, social and governance issues] through that lens."

"The value of companies that connect radically (with the world around them) effectively outperform their competitors by 20 percent over a 10-year period," he said. Time has tested customers' hard-wired drive to do better; even in 2015, the "worst year in apparel since the recession," half of consumers said they would pay more for products with positive social impact.

The poorest country in the Americas needs a happy environmental narrative. Haiti has less than 1.5 percent tree cover, although it shares an island with the Dominican Republic, which enjoys 48 percent tree cover. Deforestation in Haiti ripples down to soil erosion, biodiversity, poor crop yields and stunted economic development. And Thread is committed to telling the stories of its more than 200 Haitian employees.

From fashion statement to financial statement:
Making the sustainability sell to formally enact the partnership with Timberland, however, was a different story — even though its parent company, VF Corporation, is known for its own progress (VFC managed to reduce its energy footprint while growing revenue by 75 percent).

"Production is a problem when you want to drive up cost by 8 cents a yard," said Rosenberger. "We are 10 to 15 percent more expensive [than other fabrics]. To create value on the back end, we need people in marketing. If we can drive a 3 percent higher sell-through, more dollars per yard will increase cost, but you will make more money. Timberland could zoom out and look across [that]."

"When you're 20 people, you can make a decision in an afternoon and change the entire company," he said. "But if you're 7,000 people, it's important to have a strategic person who can cross silos."

Angelini credited Margaret Morey-Reuner, Timberland's director of strategic partnerships and business development, as being that champion.
Morey-Reuner said that when making the business case for a sustainability partnership, "We first look at the potential ROI and carefully consider whether or not a partnership aligns with our strategies; can help us meet our CSR goals; and creates brand heat and height by enhancing our leadership position in the market.

"We first answer the question, 'What will success look like?' We work hard to get all potential internal stakeholders on board in advance in order to have input from the appropriate thought leaders. Including and empowering these folks early in the process establishes a strong sense of collaborative ownership."

Production pattern:
Any sustainability startup that approaches a brand such as Timberland for strategic partnerships needs to prove that it adds value to the company.
"I deal with greenwashing daily," said Angelini. "Many suppliers have cool stories, but very few come to us presenting life cycle assessment models. We don't want to have an incident or process that affects us negatively. Our legal department is conservative and will ask to see environmental claims forms. Thread being a certified B Corporation gave us a vote of confidence."

Thread is venture-backed by $4 million and is seeking up to $9 million while crafting an advisory team of fashion-industry veterans. Earning the right credentials, filing financial statements and tracking data has been a labor of love, according to Rosenberger, but is necessary if the company is to help clean up recycled materials sourcing.

"No one wants to shine a light on this part of the supply chain, but you're owning the conversation if you expose your own flaws first, instead of other sources or investigative journalists exposing them for you". "The instinct to run to the blind spot is what sustainability is about."

Source:
https://www.greenbiz.com/article/timberland-walks-extra-mile-end-plastic-waste

Please be kind and respectful!
Please make sure to be respectful of the organizations and companies, and other Rate It Green members that make up our community. We welcome praise and advice and even criticism but all posted content and ratings should be constructive in nature. For guidance on what constitutes suitable content on the Rate It Green site, please refer to the User Agreement and Site Rules.
The opinions, comments, ratings and all content posted by member on the Rate It Green website are the comments and opinions of the individual members who posts them only and do not necessarily reflect the views or policies or policies of Rate It Green. Rate It Green Team Members will monitor posted content for unsuitable content, but we also ask for the participation of community members in helping to keep the site a comfortable and open public forum of ideas. Please email all questions and concerns to admin@rateitgreen.com