South Carolina's Energy Freedom Act - Solar Boom Expected

Allison Friedman
MA, United States
0 Ratings
99 Discussions
131 Group posts
Posted by:
Allison Friedman
// Rate It Green Admin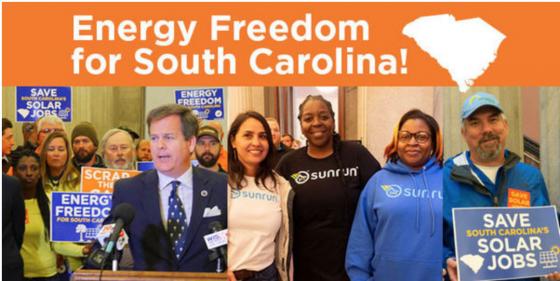 The number of solar installations in South Carolina may more than double in the next five years with the recent passing of the Solar Energy Freedom Act, according to the Solar Energy Industries Association (SEIA). The new law is exciting for a number of reasons, but perhaps most notable is that the South Carolina Senate and House votes were unanimous. This bipartisan support is exciting and a great sign at a time when reducing energy use and promoting sustainable and renewable energy are critical to meet climate goals required for a sustainable future and economy.
Essentially, the bill moves the state's energy market into the leading edge, and out of a time when the state faced some of the highest energy bills in the country. Fairness and transparency are emphasized, for both consumers and small businesses and power producers.
Notable provisions include:
The extension of net metering at full retail rates for consumers in upcoming years, with an adjustment used on future study of the true/fair value of solar generated by consumers with solar installed. Eliminating previous low net metering caps will greatly open (or reopen) the South Carolina solar market. Previous caps has served to limit opportunity and drive service providers and installers out of this market.
Utilities must not discriminate between large and small generators of power, providing an equal footing with respect to pricing
The Public Service Commission (PSC) must initiate proceedings to review and approve rates and terms provided to large-scale solar facilities as well, reducing previous barriers to larger projects.
Larger energy consumers will be able to negotiate directly with suppliers, in an effort to retain larger manufacturers and preserve jobs.
The law authorizes the PSC to establish a neighborhood solar program to increase solar use among low-income consumers.
According to Lynn Zurich, CEO and Co-Founder of Sunrun, "The Energy Freedom Act is a big win for all South Carolina energy consumers. "Policymakers listened to the people and delivered a bipartisan solution that lifts arbitrary caps on local solar energy, grows the economy, and gives more individuals access to homegrown solar a way to safeguard against the highest energy bills in the country."
Abigail Ross Hooper, President and CEO of SEIA, called the bill "a transformative victory" that will significantly lower electricity costs and create jobs." Support for the bill was wide. Ms. Hooper credits many significant organizational partners, 33 solar companies, and 32 corporations - including several multinational global corporations - with working towards and/or actively supporting the bill.
For more information:
https://solarindustrymag.com/south-carolina-house-passes-pro-solar-energy-reform-bill
https://solarindustrymag.com/solar-soars-in-south-carolina-with-energy-freedom-act
https://www.solarpowerworldonline.com/2019/05/south-carolina-senate-passes-energy-freedom-act/
https://www.wistv.com/2019/07/24/future-is-bright-solar-energy-south-carolina-after-energy-freedom-act/
https://seia.org/blog/solar-victory-south-carolina
https://energynews.us/2019/07/25/southeast/commentary-with-energy-freedom-act-south-carolina-takes-steps-toward-resilience/
https://www.seia.org/sites/default/files/inline-files/SC-H3659-Overview.pdf
Image: https://www.thepetitionsite.com
Please be kind and respectful!
Please make sure to be respectful of the organizations and companies, and other Rate It Green members that make up our community. We welcome praise and advice and even criticism but all posted content and ratings should be constructive in nature. For guidance on what constitutes suitable content on the Rate It Green site, please refer to the User Agreement and Site Rules.
The opinions, comments, ratings and all content posted by member on the Rate It Green website are the comments and opinions of the individual members who posts them only and do not necessarily reflect the views or policies or policies of Rate It Green. Rate It Green Team Members will monitor posted content for unsuitable content, but we also ask for the participation of community members in helping to keep the site a comfortable and open public forum of ideas. Please email all questions and concerns to admin@rateitgreen.com