First Net Zero Energy Community in Georgia

Rate It Green Team
0 Ratings
97 Discussions
6 Group posts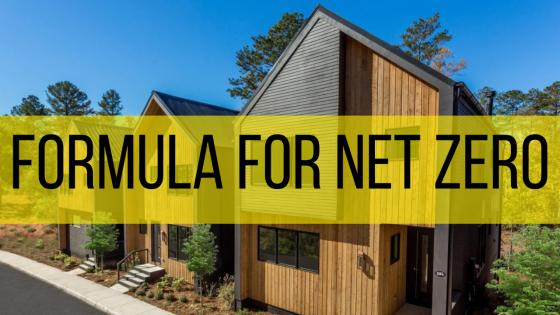 Even though we are in a hot building market, it is important to innovate and design based on consumers' ever-growing needs. The timing is perfect for a house that matches the realities that we are all facing now. Recent and current events have made homeowners aware of health, comfort, energy independence, and climate change. Finally, one builder in Georgia took on this challenge to create a product that addresses all of those issues, and their clients appreciate these efforts. The formula for building net zero energy is not as difficult as you might think. Steven Sanders-Meyers with Brightwater Homes met with Matt Hoots to discuss their tricks to make this a reality.
Steven is working with Matt to share some of the costs, trade-offs, and savings associated with this type of building and will create a series of articles with him. In the meantime, here is a high-level overview of what is needed to create a net-zero-energy home in 3 simple steps.

Design for efficiency
While taking a code-built house and installing solar and praying that your energy bills will disappear is tempting, that is unrealistic. The first step is to create a design that is energy efficient. The top consumers of energy in the house are HVAC, water heating, and lighting. Since HVAC can be the largest energy consumer, it is an easy target for improvement. A code-built house has basic insulation and an entry-level HVAC system installed. A high-performance house is more airtight, is better insulated, and has better windows and doors. All of these are necessary to reduce the amount of HVAC needed. If the HVAC system is smaller and does not have to run as much, then the energy needed to heat and cool the house comes down.

Install ALL ELECTRIC, EFFICIENT mechanical systems.
Solar power cannot help you create natural gas for your appliances, so you must install all electric appliances. That is still not enough. Entry-level electric appliances do work. However, they are not all designed for peak performance. At a minimum, install ENERGY STAR labeled products. Steven will be sharing with us in future articles what products they

Finally, you can install solar power.
Installing solar on a code-built house will slightly reduce energy bills. Installing solar on an energy-efficient home allows you to eliminate energy bills. If you create as much energy as the house uses, then the net consumption will be zero. This is how a house is considered NET ZERO ENERGY. If every house in the neighborhood is net zero energy, it is a net zero energy community.
Check out Brightwater Homes profile and make sure you sign up for our newsletter to get notifications from Steven and Matt on the "nuts and bolts" for building a net zero energy home.
Please be kind and respectful!
Please make sure to be respectful of the organizations and companies, and other Rate It Green members that make up our community. We welcome praise and advice and even criticism but all posted content and ratings should be constructive in nature. For guidance on what constitutes suitable content on the Rate It Green site, please refer to the User Agreement and Site Rules.
The opinions, comments, ratings and all content posted by member on the Rate It Green website are the comments and opinions of the individual members who posts them only and do not necessarily reflect the views or policies or policies of Rate It Green. Rate It Green Team Members will monitor posted content for unsuitable content, but we also ask for the participation of community members in helping to keep the site a comfortable and open public forum of ideas. Please email all questions and concerns to admin@rateitgreen.com