The Emergence of Mass Timber for Urban Building Projects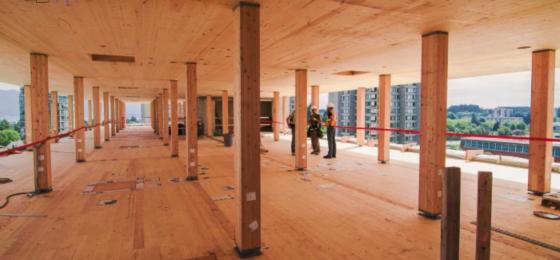 During the wood-age of building, nearly every metropolitan city had a giant fire, some more than once: Boston in 1872; London in 1666 (and 1212…and 1130…1135…and so on…London is one of the most well-known tinderboxes on the planet); Chicago 1871; and San Francisco 1906, to name a few. These fires were attributed not only to materials used in building, but also a lack of enough fire fighters, low water pressure, and lack of proper equipment. Builders began using stone and brick, and eventually, began building with steel. As cities grew and skyscrapers got taller, it seemed logical that wood would never be chosen as an urban building material again.
Until now.
Mass Timber Emerges
Why would anyone go back to using wood for skyscrapers and urban building, especially considering the ins and outs of the International Building Code? For starters, it's not straight-up wood. Sean McTaggart of the AIA states in Timber Towers: The future of tall wood design in The Construction Specifier magazine, that "Mass timber should not be confused with stick-built or light-framed wood construction…Mass timber is an engineered, solid-wood system, technically falling under Type IV heavy timber construction ("Timber Towers: The future of tall wood design", 63). Mass timber is engineered wood and is very different than traditional lumber. It is created by gluing small pieces of wood together to create large pre-manufactured panels. There are various types, including:
Continue reading this post and join the conversation here: https://www.greence.com/Spec_Shaman/Emergence-Mass-Timber-Urban
Image added by rateitgreen, credit to: https://www.theb1m.com
Please be kind and respectful!
Please make sure to be respectful of the organizations and companies, and other Rate It Green members that make up our community. We welcome praise and advice and even criticism but all posted content and ratings should be constructive in nature. For guidance on what constitutes suitable content on the Rate It Green site, please refer to the User Agreement and Site Rules.
The opinions, comments, ratings and all content posted by member on the Rate It Green website are the comments and opinions of the individual members who posts them only and do not necessarily reflect the views or policies or policies of Rate It Green. Rate It Green Team Members will monitor posted content for unsuitable content, but we also ask for the participation of community members in helping to keep the site a comfortable and open public forum of ideas. Please email all questions and concerns to admin@rateitgreen.com