New York Passes Climate Climate & Community Protection Act - 5th State to Target 100% Clean Energy

Allison Friedman
MA, United States
0 Ratings
99 Discussions
131 Group posts
Posted by:
Allison Friedman
// Rate It Green Admin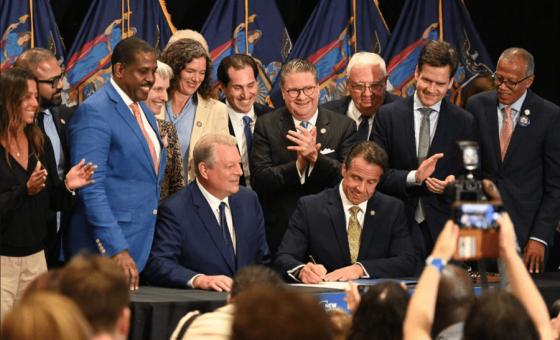 New York just passed the Climate Climate & Community Protection Act with a commitment to reach 100 percent carbon-free electricity by 2040 and economy-wide, net-zero carbon emissions by 2050 is ambitious to say the least, and even a bit controversial as real commitment and chage are going to be requried. New York might just be challenging California for the title of the most aggressive climate change state!
With Andrew Cuomo's signature, New York joins California, Colorado, Nevada, New Mexico and Washington, with a requirement to generate 100% of the states electricity from carbon-free sources including solar, wind, hydropower, (and nuclear power for some, but that's a discussion for another day) by 2050 at the latest. Hawaii, Washington, DC and Puerto Rico have also targeted 100% clean power.
The Climate Leadership and Community Protection Act requires the state to cut greenhouse gas emissions to 85% below 1990 levels by 2050 and offset the remaining 15% with measures such as planting forests and capturing carbon for storage underground. The law will require utilities to get 70% of the state's electricity from renewable sources by 2030. In 2018, approximately 26.4% of electricity came from renewable sources.
Some noteworth aspects and likely consequences of the legislation include:
85 percent of the reductions must come from New York's own energy and industrial emissions, and the remaining 15 percent can come from carbon offsets such as farming, forestry, or other agriculture - this the most aggressive US carbon target to date.
The law sets up a 22-member Climate Action Council to fill in many of the details as to how targets will be reached
The Climate Action Council will also convene advisory panels on different aspects of the regulation (transportation, land use and local government, industry, etc.) and consult them in developing a scoping plan. It will also convene a just-transition working group to research and advise on workforce training, job impacts, and related matters. And it will consult with the climate justice working group. (That working group is created elsewhere in the bill; it will contain representatives from disadvantaged communities and environmental justice groups, as well as representatives from trade-exposed industries.)
The Council will report on GHG emissions and progress and adjust its plan every four years
The state will integrate a social cost of carbon into all agency decisions
Significant on and offshore wind energy will be required to meet the state's goals. The bill specifically targets 9,000 MW of offshore wind energy by 2035, 6,000 MW of solar energy by 2025, and a 23% increase in energy efficiency.
Transportation will likely be a major area of focus, with mass transit expansion, and additional focus on electric vehicles
Buildings and building energy use will also be under scrutiny, with requirements for sustainable building retrofits, including energy efficiency measures (already passed in New York City)
A minimum 35% of all state investments in climate and clean energy go to "disadvantaged communities" — those most vulnerable to the effects of climate change or most threatened by the transition away from fossil fuels.
Some key job quality provisions did not make the final law but may be addressed in other wage law legislation that is being developed
Vice President Al Gore called the legislation "the most ambitious, the most well-crafted legislation in the country." To put it mildly, it's a big deal that the country's third largest economy passed the most ambitious climate change legislation. The effects will clearly be felt in NY and beyond, both in the short and long term. In all honesty, it's also just an exciting moment to have significant, positive climate news.
To learn more:
https://www.latimes.com/world-nation/story/2019-07-20/new-york-climate-plan
https://www.vox.com/energy-and-environment/2019/6/20/18691058/new-york-green-new-deal-climate-change-cuomo

Image: Andrew Cuomo's Flickr page
Please be kind and respectful!
Please make sure to be respectful of the organizations and companies, and other Rate It Green members that make up our community. We welcome praise and advice and even criticism but all posted content and ratings should be constructive in nature. For guidance on what constitutes suitable content on the Rate It Green site, please refer to the User Agreement and Site Rules.
The opinions, comments, ratings and all content posted by member on the Rate It Green website are the comments and opinions of the individual members who posts them only and do not necessarily reflect the views or policies or policies of Rate It Green. Rate It Green Team Members will monitor posted content for unsuitable content, but we also ask for the participation of community members in helping to keep the site a comfortable and open public forum of ideas. Please email all questions and concerns to admin@rateitgreen.com