Microsoft Pledges to Go Carbon Negative by 2030 Including a $1 Billion Climate Innovation Fund

Allison Friedman
MA, United States
0 Ratings
99 Discussions
131 Group posts
Posted by:
Allison Friedman
// Rate It Green Admin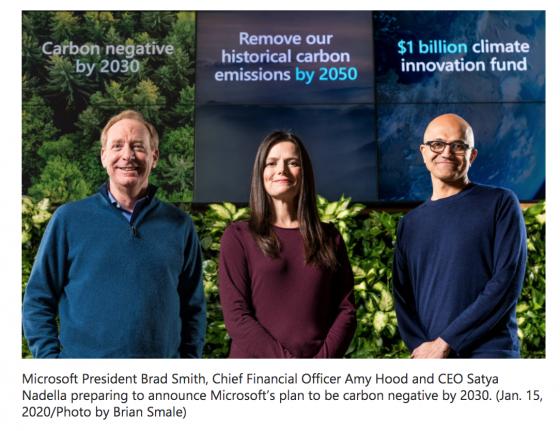 Microsoft took an impressive climate leadership position this week when the company announced a promise to remove all of the carbon the company has ever put in the atmosphere directly or by consumption - back to the company's founding in a garage in 1975. The company plans to be "carbon negative" by 2030.
According to a company statement by President Brad Smith, "While the world will need to reach net zero, those of us who can afford to move faster and go further should do so."
As a part of the company's carbon related efforts, Microsoft plans to launch a $1 billion climate innovation fund to accelerate the global development of technologies to reduce, capture, and remove carbon. The company will work with suppliers and customers to reduce their collaborative impacts, and will add its voice to advocate for policies to reduce and remove carbon from the atmosphere. Results will be reported in an Annual Sustainability Report that will detail the company's impact and learnings.
The company plans to rely on 7 guiding principles to lead this impressive effort:
Grounding in science and math
Taking responsibility for our carbon footprint.
Investing for new carbon reduction and removal technology
Empowering customers around the world
Ensuring effective transparency
Using our voice on carbon-related public policy issues
Enlisting our employees
Companies are increasingly realizing that significant steps must be taken, and immediately, to begin to prevent the worst impacts of climate change. Carbon reduction efforts are becoming increasingly common, and some companies have pledged to become carbon neutral. Cynthia Cummins, Director or Private Sector Climate Mitigation at the World Resources Institute (WRI) notes that Microsoft's pledge to remove all of its emissions ever is rare, stating, I have never seen that before." She's also impressed by the company's level of detail and at such an early stage. Microsoft President Brad Smith has a ready answer in his announcement, stating, ""Neutral is not enough to address the world's needs." Let's hope other companies will be as brave and will jump into this commitment wholeheartedly on their own, and in collaboration.
To learn more:
https://blogs.microsoft.com/blog/2020/01/16/microsoft-will-be-carbon-negative-by-2030/
https://www.npr.org/2020/01/16/796758230/microsoft-pledges-to-remove-from-the-atmosphere-all-the-carbon-its-ever-emitted
https://www.greentechmedia.com/articles/read/microsofts-carbon-negative-gambit?utm_campaign=GTMsocial&utm_medium=social&utm_source=twitter&utm_content=1579882592
Image: Microsoft (Brian Smale)
Please be kind and respectful!
Please make sure to be respectful of the organizations and companies, and other Rate It Green members that make up our community. We welcome praise and advice and even criticism but all posted content and ratings should be constructive in nature. For guidance on what constitutes suitable content on the Rate It Green site, please refer to the User Agreement and Site Rules.
The opinions, comments, ratings and all content posted by member on the Rate It Green website are the comments and opinions of the individual members who posts them only and do not necessarily reflect the views or policies or policies of Rate It Green. Rate It Green Team Members will monitor posted content for unsuitable content, but we also ask for the participation of community members in helping to keep the site a comfortable and open public forum of ideas. Please email all questions and concerns to admin@rateitgreen.com