LEED® and USGBC Recognize Global GreenTag Product Health Declaration™ (the GreenTag PhD™)

Rate It Green Team
0 Ratings
97 Discussions
6 Group posts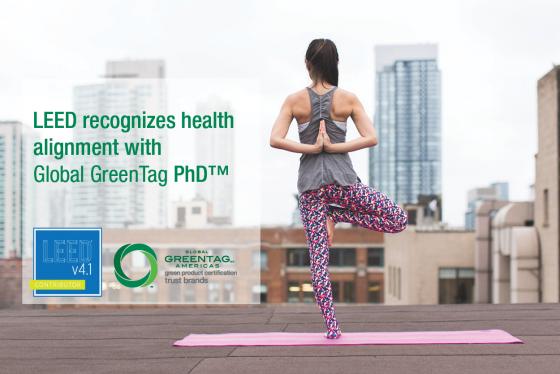 The presence of Global GreenTag LLC, Americas in the US market is set to be enhanced further. The certifier's Global GreenTag PhD, Materials Transparency Certification Program (reviewed and assessed by the LEED Committee and MR Technical Advisory Group (TAG) has been formally recognized within the LEED framework of Rating Systems. The program is among the most stringent product disclosures in the world, and now noted by LEED and USGBC (US Green Building Council) as a Program that is formally recognized for not only LEED v4.1 but also v4.0, appearing in the next digital updates of the LEED Technical Manuals.

Following its increased rigor update of late 2018, the 2019 GreenTag PhD now provides content inventory to the 100ppm level, "which equals the most stringent Product Disclosures in the world, says Daniel Huard, CEO of GreenTag Americas "and for building professionals this means that any question of stringency of content inventory evaluation is more than satisfied for all of GreenTag's PhD certifications from January 1, 2019 forward. In addition, all PhDs issued previously will be updated as well to the new protocol by June 30 2019 to ensure that all LEED practitioners can have confidence that where a LEED credit is mentioned on a GreenTag PhD there is formal recognition within LEED of that product's LEED credit relevance."

Global GreenTag also is developing a training program and narrative translator documents on the PhD for LEED Project reviewer(s) to insure that the ingredient, amount, role, and hazard for all ingredients present in the final product is made available in one or other of the compliant formats and to efficiently articulate the easiest way to find that data assisting in reviewer determination.

Global GreenTag Americas was launched in the USA last November at the GreenBUILD expo and conference hosted annually by USGBC, the creator of the LEED building certification program. GreenTag Program Director, Mr. David Baggs says "we are new to the US but greatly look forward to helping the market better understand our certification protocols, which are based on factual data, detailed science and ISO standards compliance (among others)." Mr. Baggs adds: "Our PhDs are unique...in that we take the ingredient hazard flags and through a thorough risk assessment, we eliminate the hard work for green professionals wanting to not only use LEED but also go beyond LEED and understand the actual health impact of the product in use via the 'GreenTag HealthRATE' rating. These Health ratings are included on our PhDs, so from the multiple perspectives of LEED compliance, time saving and healthy building creation they are a win-win-win outcome for manufacturers and green professionals, alike."

Mr. Huard says that he is "so proud of Global GreenTag's collective commitment to materials transparency certifications and particularly its dedication to collaborating with USGBC, WELL™, Green Star® and other global sustainability Ratings Systems to bring about reporting methodologies, which make it easier for our client's products to be validated compliant and consequentially helping in the review process for LEED Building Certifications."

Since LEED's decision, Mr. Huard adds, Global GreenTag has also begun collaborating with HPDC and others in the product ingredient transparency space to help harmonize the way hazard information is presented following the release of LEED v4.1 "such that LEED MR Building Product Optimization: Material Ingredients credit Option 1 documentation is more consistent for reviewers to find and also ensuring that our PhD certifications along with the collaborators will be accepted without need for a translation document."

GreenTag PhDs are updated on www.globalgreentag.us, www.ORIGIN.build, www.transparencycatalog.com, and www.ecomedes.com.
For more information, contact:
Daniel Huard
Cell: +1 702.604.3359
Email: ceo@globalgreentag.us
CV: Daniel A. Huard
Global GreenTag CV: Global GreenTag LLC, Americas

For more information:
http://globalgreentag.us/
https://www.globalgreentag.us/service-phd.html
Please be kind and respectful!
Please make sure to be respectful of the organizations and companies, and other Rate It Green members that make up our community. We welcome praise and advice and even criticism but all posted content and ratings should be constructive in nature. For guidance on what constitutes suitable content on the Rate It Green site, please refer to the User Agreement and Site Rules.
The opinions, comments, ratings and all content posted by member on the Rate It Green website are the comments and opinions of the individual members who posts them only and do not necessarily reflect the views or policies or policies of Rate It Green. Rate It Green Team Members will monitor posted content for unsuitable content, but we also ask for the participation of community members in helping to keep the site a comfortable and open public forum of ideas. Please email all questions and concerns to admin@rateitgreen.com