Heathrow Airport Targets Zero Carbon, Zero Waste by 2050

Kalyani.rc
0 Ratings
29 Discussions
14 Group posts
Posted by:
Kalyani.rc
// Passive House / Sustainability Enthusiast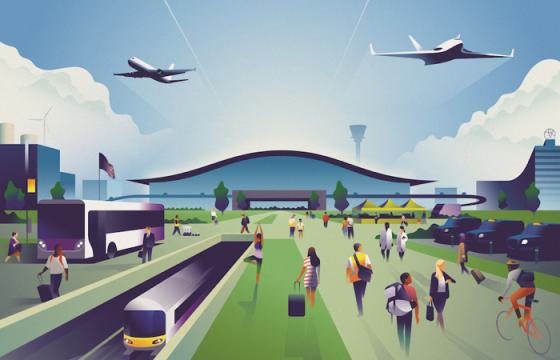 London's Heathrow airport launched a sustainability strategy that includes using 100 percent renewable energy by April and operating a zero-carbon, zero-waste airport by 2050.

Dubbed Heathrow 2.0, the plans include building an R&D incubator, a new carbon-neutral runway and establishing an ultra-low emission zone by 2025. The airport has invested an initial £500,000 ($620,630) in the R&D incubator to minimize aviation's impacts like noise and carbon emissions. By the end of the year, airport officials say they will identify additional funding sources so that the incubator opens its doors in 2019.

The sustainability plan also calls for the airport to invest in new technology to improve water efficiency and reduce total water consumption by 10 percent by 2020, compared to a 2010 baseline.

The new runway, which Heathrow now says will be carbon neutral, remains a very controversial piece of the airport's planned expansion. Critics say the runway will destroy the UK's chances to meet its climate targets and will exacerbate local air pollution problems.

About 95 percent of Heathrow's carbon emissions come from aircraft, the Guardian reports.

It is tough to cut aviation emissions because unlike cars, airplanes can't simply switch to emission-free batteries. For this reason, aviation biofuels are expected to play a key role in helping the industry achieve its emissions targets.

A Lux Research report says bio-jet fuel innovations, led globally by Honeywell UOP and Boeing, will account for 56 percent of the targeted CO2 emissions reductions, while a third of the cuts will come from new aircraft technology and optimization of operations and infrastructure.

The global aviation industry has pledged to offset about 80 percent of emissions above 2020 levels by 2035.

In the US, airports and commercial airlines are already taking steps to reduce their emissions and minimize their environmental footprint.

For example, the Seattle-Tacoma International Airport, working with Boeing, Alaska Airlines, and other companies, has set a goal to power every flight at Sea-Tac with sustainable aviation biofuel, which reduces carbon dioxide emissions by 50 to 80 percent compared to fossil fuel. It is working with industry partners to develop a commercial-scale biofuel infrastructure program to achieve this target.

United Technologies Corporation chief sustainability officer John Mandyck says carbon neutral airports will also improve the industry's emissions performance: "At San Diego International Airport's Terminal 2, for example, performance enhancements included high-performance glazing, on-site solar power, low-flow fixtures for water conservation, and the diversion of more than 90 percent of construction waste from landfills. The terminal is the world's first to be certified LEED Platinum."

Last summer, Dallas Fort Worth International Airport became the first carbon neutral airport in North America by switching to renewable energy sources and converting its bus fleet to compressed natural gas vehicles, among other low-carbon initiatives.

For the complete article, please visit:
https://www.environmentalleader.com/2017/02/heathrow-airport-targets-zero-carbon-zero-waste-2050/

Please be kind and respectful!
Please make sure to be respectful of the organizations and companies, and other Rate It Green members that make up our community. We welcome praise and advice and even criticism but all posted content and ratings should be constructive in nature. For guidance on what constitutes suitable content on the Rate It Green site, please refer to the User Agreement and Site Rules.
The opinions, comments, ratings and all content posted by member on the Rate It Green website are the comments and opinions of the individual members who posts them only and do not necessarily reflect the views or policies or policies of Rate It Green. Rate It Green Team Members will monitor posted content for unsuitable content, but we also ask for the participation of community members in helping to keep the site a comfortable and open public forum of ideas. Please email all questions and concerns to admin@rateitgreen.com