Are You Confused by the Food Label: "Best-by," "Use-by," and "Sell-by?"

YijunW
CA, United States
0 Ratings
53 Discussions
0 Group posts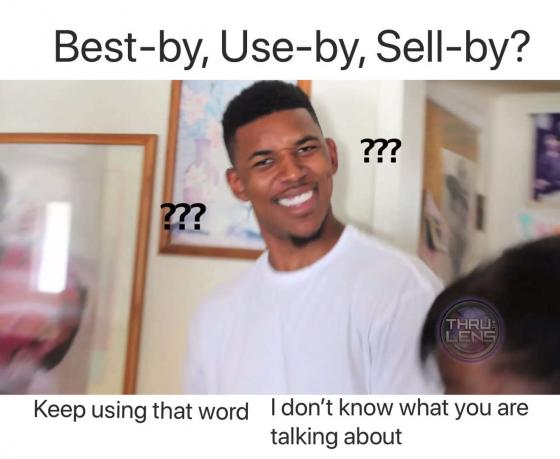 Have you tossed away food because you aren't sure what the label means? You're not the only one. Nine out of 10 buyers are confused by the USDA food label and the average family is throwing away $1,500 per year of food that is perfect to eat because of confusing food labels, said Sasha Stashwick from the National Resource Defense Council.

The "best if used by" press is not an expiration date or an indicator about the safety of the food. It is a manufacturers' best guess on when food will be at its peak quality.

Sasha Stashwick said most foods can last longer if they are stored properly. For example, eggs can last three to five weeks after purchase and milk can last at least a week beyond the printed "best if used by" date.

"Use-by" date indicates the expiration date at which you finish the food; because of its quality rather than sick concern, according to Bob Brackett, director of the Institute for Food Safety and Health at the Illinois Institute of Technology.

Dr. Brackett says that "sell-by" is for the retailers rather than the consumers. It informs sellers the date by which the product should be sold or removed from shelves. The "sell-by" date does not indicate the product is unsafe for consumers after the date. Commonly, one-third of the product's shelf-life remains after the "sell-by" date.

To read more, please visit:
https://www.cbsnews.com/news/new-usda-food-label-guidelines-aim-to-prevent-food-waste/
https://bit.ly/2lY8gRl
https://bit.ly/2zlEP6y

Allison Friedman
Weston, MA, united-states
0 Ratings
99 Discussions
131 Group posts

Matt Hoots
Atlanta, GA, united-states
4 Ratings
13 Discussions
7 Group posts
Matt Hoots
// SawHorse Design + Build
I have 3 boys and food never goes bad.
Please be kind and respectful!
Please make sure to be respectful of the organizations and companies, and other Rate It Green members that make up our community. We welcome praise and advice and even criticism but all posted content and ratings should be constructive in nature. For guidance on what constitutes suitable content on the Rate It Green site, please refer to the User Agreement and Site Rules.
The opinions, comments, ratings and all content posted by member on the Rate It Green website are the comments and opinions of the individual members who posts them only and do not necessarily reflect the views or policies or policies of Rate It Green. Rate It Green Team Members will monitor posted content for unsuitable content, but we also ask for the participation of community members in helping to keep the site a comfortable and open public forum of ideas. Please email all questions and concerns to admin@rateitgreen.com