Green Gab Podcast - ECOBAGS and The Magic of Tiny Business, with Sharon Rowe, Aired May 26

Rate It Green Team
0 Ratings
105 Discussions
6 Group posts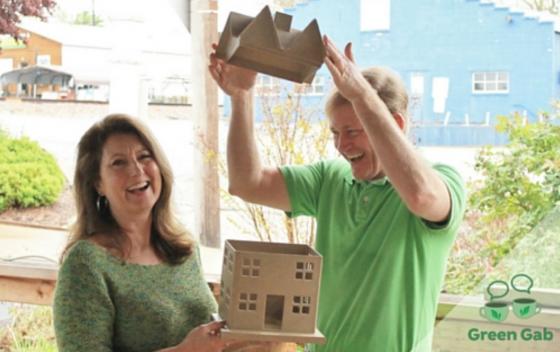 Sharon Rowe, founder and CEO of ECOBAGS Products and author of The Magic of Tiny Business: You Don't Have to Go Big to Make a Great Living, gabs with Marla and Tony about the origin and impact of her trademark lightweight, expandable, cotton string bag. SO many great concepts come up in this podcast, including reflection about some of the profound changes that have happened over the last 50 years in our culture, and how change is slowly starting to happen now - as we engage and as those who care about sustainability empower each other.

Over 30 years ago, Sharon's plastic grocery store bag broke in the middle of a busy crosswalk scattering her groceries all over the street. Juggling her young son on one hip as she hurried to gather her items, she noticed how many people were walking around with plastic bags and thought to herself, "how utterly useless – you can't even get a second use out of it – they are completely useless." That's when she decided to take one tiny step toward change. She was truly ahead of her time!

To listen to the Podcast:
https://greenhomecoach.com/ecobags-magic-of-tiny-business/

Sharon emphasizes that just by bringing your own ECOBAG or slipping your small purchase in your purse and politely refusing to take a bag influences the employee and the person behind you in line. All the sudden there's a chain reaction because something was put in motion. Sharon believes that's where "the plastic bag awareness" has opened the door to other sustainable practices. Leading by example is the younger generation like Sharon's daughter who now asks for "water with no straw," at restaurants and does not purchase single use water bottles. We can all indeed say something to help repair our disposable single-use culture.

Sharon states that "our culture is a disposable culture." She notes that even business ventures have become disposable as many businesses don't expect to last more than 5-10 years. Starting a business used to be a long-term investment, however, that is not the trend today. People are just too afraid of incorporating as they don't know how long they'll last. As someone that works at the last locally owned electronics retailer, Tony has seen many local competitors go by the wayside. Tony emphasizes that is why it's so important to buy local.

Before the market bust of 2008, Marla notes even houses were deemed disposable as one trend was to live in a home for 2 to 3 years and then flip it for a profit. This meant the homebuyer had no stake in the neighborhood, local businesses or the home's sustainability. Like Sharon, Marla's company, The Green Home Coach, is about cultural shift in the home; educating people on how to make greener choices in their purchases and practices which naturally bleeds over to other areas of their lives. It's also important people understand it's not all or nothing, even small changes have huge benefits.

Not buying into the all or nothing, go big or go bust myth is exactly what Sharon addresses in her book, The Magic of Tiny Business: You Don't Have to Go Big to Make a Great Living. Sharon wrote the book to "take the cover off the mystery called business." The book provides practical tools and tips built on the foundation of her own successes and failures to help aspiring business owners start an enterprise without compromising their beliefs, losing themselves or becoming overwhelmed. Believing in the importance of self-sustainability, there's even a chapter about how to keep healthy and focused, not just on-task, but fully engaged in life. Sharon states, "I want people to understand they can build a sustainable business that's profitable."

Our Podcast hosts ask, "Did we trade choice for convenience?"

What do you think? How do we enable the kind of profound cultural change needed in a culture we're all a part of? How do we move from aware consumers to thorough supply chain awareness? And, don't these changes save money, anyway??


About The Green Gab:
https://greenhomecoach.com/category/podcast/

Join Marla and Tony to get in on the Green Gab. We talk to those folks rocking it in green – green homes, green living and green companies. We get into why green matters – to you, your family and friends and your community. And, we share what we've done, as well as tips for greening up your home, your job, your family and your life!
Join us on our own personal Green Odyssey as we hope to change the world…one Green Gab podcast at a time.




Please be kind and respectful!
Please make sure to be respectful of the organizations and companies, and other Rate It Green members that make up our community. We welcome praise and advice and even criticism but all posted content and ratings should be constructive in nature. For guidance on what constitutes suitable content on the Rate It Green site, please refer to the User Agreement and Site Rules.
The opinions, comments, ratings and all content posted by member on the Rate It Green website are the comments and opinions of the individual members who posts them only and do not necessarily reflect the views or policies or policies of Rate It Green. Rate It Green Team Members will monitor posted content for unsuitable content, but we also ask for the participation of community members in helping to keep the site a comfortable and open public forum of ideas. Please email all questions and concerns to admin@rateitgreen.com