Green Cleaning Products: Some Alternatives to Conventional Chemicals

Matt Z.
QC, Canada
0 Ratings
4 Discussions
1 Group posts
Posted by:
Matt Z.
// Student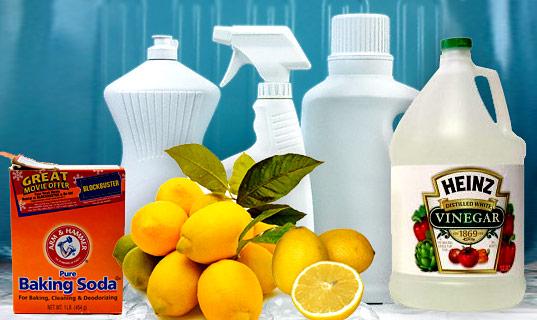 Today's household cleaners contain many known harmful chemicals. Low exposure to these chemicals in properly ventilated spaces should be relatively safe; however, most people use more than just one cleaner. Just in the bathroom, for example, you need a product for the toilet, one for the mirror, one for general surfaces and maybe even some other specific products for mildew. Once you add all of these up, there is a higher chance that they will be harmful to our health, and once washed down the drain, they also become harmful to the environment. One solution to this is green cleaning products, whose purpose is to greatly reduce or even eliminate any toxic chemicals or non-biodegradable ingredients from the cleaner. There has been increasing activity in the green cleaning space as several brands are expanding to include green products. Last year Tide tried to find a middle ground of sorts by releasing Tide Purclean, a laundry detergent that is 65% bio-based. The other 35% of the product is still mainly petroleum-based chemicals, to ensure the efficiency of the product, but it still offers an overall environmentally friendlier alternative. Additionally, Chlorox released its Green Works products in 2008, advertising a product that is 99% natural. The problem is that there is no regulation or standard for what can be called "natural", so calling something natural does not inherently mean that it is non-toxic or eco-friendly. In the end, the ingredients that Green Works claim to be natural are in fact naturally-derived, but people still have a problem with two of them in particular: ethanol, which is said to have a bigger greenhouse gas footprint than petrochemicals, and a coconut oil derivative, which is associated with rainforest habitat destruction. Overall, Green Works is once again a better alternative than conventional products, but it is not green as it may initially come off as. Although no cleaning product is perfect, there are some other green companies that seem to offer safer and eco-friendlier products compared to conventional brands. Seventh Generation, method and Ecover are all green companies that make products that are free of toxic and environmentally unfriendly chemicals and fully disclose all of their ingredients. These companies also used recycled materials to make the packaging, their buildings are LEED-certified and the company policies encourage an overall green lifestyle. These brands seem to generally offer good and trustworthy green cleaning products. Despite the wide variety of green cleaning products, the only way to ensure that a product is 100% green is to make it yourself. Some common household items can be used to make cleaners that are completely free of unknown and petroleum-based chemicals. Baking soda, white vinegar, citric acid and others are safe and effective cleaners. However, it takes a little more effort to prepare these DIY products and they don't necessarily leave a "clean and fresh" scent. This might put off some people, as it has become habit to just buy an already made product at the store. But these homemade products do offer a much more environmentally friendly alternative and, at the end of the day, are relatively simple to prepare. What do you think about green cleaning products? Have you ever made your own cleaning products? To look up how green a product is: http://www.ewg.org/guides/categories/2-AllPurpose?grade=a For some DIY green cleaning recipes, click on the following link: http://www.davidsuzuki.org/publications/downloads/2011/QueenOfGreen-Green-cleaning-recipes.pdf

Allison Friedman
Weston, MA, united-states
0 Ratings
99 Discussions
131 Group posts
Mother Earth Living has published recipes for Natural Furniture Products, for leather, upholstery, and wood: http://bit.ly/2tgY5dI

The ingredients include things like white vinegar, coconut oil, olive oil, orange oil, baking soda, corn starch, and lemon juice.

Allison Friedman
Weston, MA, united-states
0 Ratings
99 Discussions
131 Group posts
Please be kind and respectful!
Please make sure to be respectful of the organizations and companies, and other Rate It Green members that make up our community. We welcome praise and advice and even criticism but all posted content and ratings should be constructive in nature. For guidance on what constitutes suitable content on the Rate It Green site, please refer to the User Agreement and Site Rules.
The opinions, comments, ratings and all content posted by member on the Rate It Green website are the comments and opinions of the individual members who posts them only and do not necessarily reflect the views or policies or policies of Rate It Green. Rate It Green Team Members will monitor posted content for unsuitable content, but we also ask for the participation of community members in helping to keep the site a comfortable and open public forum of ideas. Please email all questions and concerns to admin@rateitgreen.com