Dodge Data & Analytics and NAHB Publish 2020 Green Single Family and MultiFamily Homes SmartMarket Brief

AbbieKnight
0 Ratings
14 Discussions
9 Group posts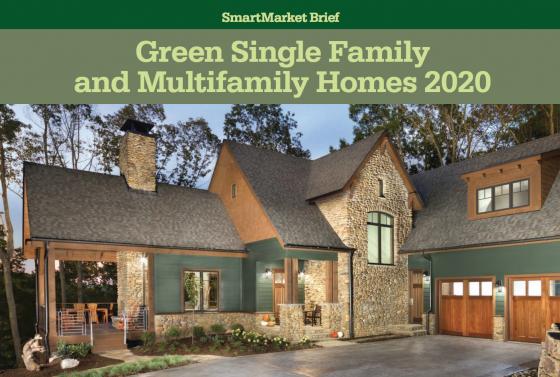 Dodge Data & Analytics, in partnership with The National Association of Home Builders (NAHB), recently released the "2020 Green Single Family and MultiFamily Homes SmartMarket Brief." The study was conducted in order to better understand green building activity in the residential market. The findings are calculated from four online surveys created for US single family and multifamily home builders and remodelers. Below are the top findings for each survey:
The first survey focused on Green Building Market Activity and it was completed by 459 people. The survey found that 25% of Multifamily and 33% of single family builders are committed to green, however 42% of single and 31% of multifamily do not practice any green projects at all, and the number one reason for not doing more green building is the lack of market demand. Those that do incorporate green practices most often include energy efficiency (91% of home builders use energy efficient approaches), improvements to indoor environmental quality, and water efficiency. However, use of a full range of green building practice is not as common.
The next survey is focused on Marketing Green Homes with 497 completed responses. Marketing is important in green building because of the opportunity to increase consumer demand. The survey found that buyers seeking to upscale or to downsize are most likely willing to pay for a green premium for their home. Therefore, marketing should be targeted towards these buyers. In addition, the survey found that the best way to relay the impact of green building features to customers is to display cost savings and quality of the features.
The next survey topic included drivers and obstacles for increased green building, which was completed by 506 participants. The study found that a considerable obstacle for the future of green building is the lack of consumer demand, and an increase in that demand would lead to more green building activity. In addition, another obstacle for the future of green building is the availability of affordable high-quality green products, which yields an opportunity for manufacturers of residential products. The survey also found that builders and remodelers are greatly influenced by their consumer's perceptions of cost, performance, and quality of green building. Therefore, by influencing any of these perceptions, it could drive the level of engagement of green features by builders and remodelers.
The final survey focused on the use of green products and practices, and it was completed by 538 participants. The survey found that products and practices used to conserve energy are used by more than half of builders/ remodelers on 50% or more of their products. Therefore, improving energy performance is a priority for home builders. In addition, builders also often use several products and practices that promote water conservation on the inside of the home, however it is not common on the outside of the home. Green products and practices are more often used by small companies compared to large companies.
Overall, the data found by these four surveys are beneficial for understanding green building market activity in the residential market. Hopefully, the information found by these studies can be used to improve the future of green building.
To see the details of the study: https://www.nahb.org/-/media/NAHB/advocacy/docs/industry-issues/sustainability/green-homes-smart-market-brief-2020.pdf
Please be kind and respectful!
Please make sure to be respectful of the organizations and companies, and other Rate It Green members that make up our community. We welcome praise and advice and even criticism but all posted content and ratings should be constructive in nature. For guidance on what constitutes suitable content on the Rate It Green site, please refer to the User Agreement and Site Rules.
The opinions, comments, ratings and all content posted by member on the Rate It Green website are the comments and opinions of the individual members who posts them only and do not necessarily reflect the views or policies or policies of Rate It Green. Rate It Green Team Members will monitor posted content for unsuitable content, but we also ask for the participation of community members in helping to keep the site a comfortable and open public forum of ideas. Please email all questions and concerns to admin@rateitgreen.com