Your Opinion is Priceless

Posted on: 07/26/2022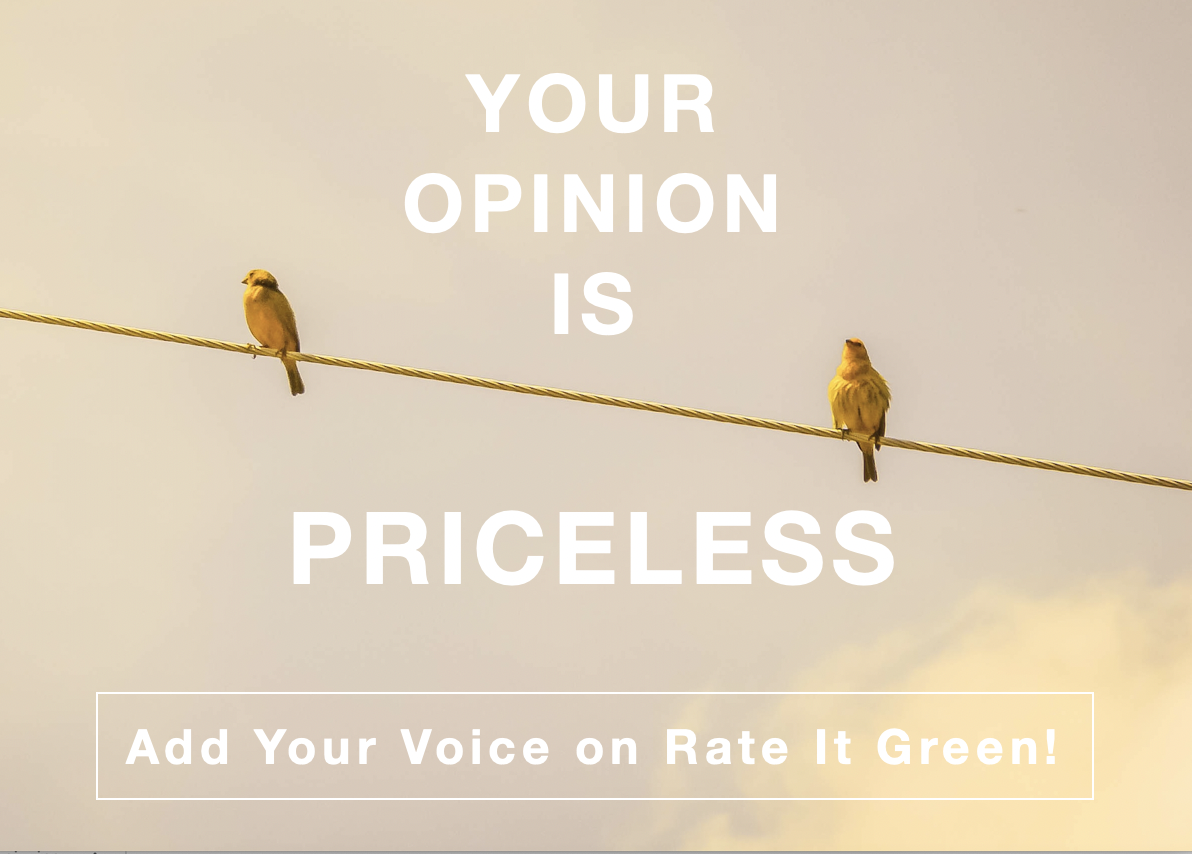 Rate It Green Members and Friends -

I've been asked quite a few times how I define green building because, well green building seems to include everything but the kitchen sink. Oh wait, it does include the kitchen sink! I agree that the umbrella is a wide one, but with good reason. We need to think carefully about all of the materials and actions that go into a building and that impact the surrounding environment and community, from when and where we first mine resources to thinking about design and longevity, and picking and orienting to a site, to the products and furnishings, including how they will be used, how we will both build and operate, and then how we will reuse or retire all of the materials at the end of use. Those are indeed many considerations.

When asked once, "Well, what isn't included in green building then?" I jokingly said, "a T-shirt?" It's the first thing that came to mind. But then literally the next day a T-shirt company joined our green building community, and we had a little laugh over that. Of course they're welcome. Everyone is welcome in the green building community, or should be, and also what person or business doesn't inhabit a building? But no, I don't think the T-shirt itself is a green building item.

So you might ask why we cover "green" news a little more broadly at Rate It Green. First, we're an open community. If you're passionate about green building and want to talk about something that is green and not building, well we're your community and we're here to listen, and hopefully to all help if we can. Second, all environmental and climate news and issues are of course related. Should we say wider energy issues aren't related to buildings? Of course they are, as buildings are a large part of the climate mitigation equation. Should we say EVs aren't part of buildings because they look like transportation? Of course not, because we charge EVs as part of buildings, and we also sometimes need to change the way we think a bit when we're working on listing our impacts. Wider environmental and public health concerns often come up too, because well, it's all connected. We're all sharing these spaces and this planet together.

I am truly grateful recently for some recent posts where colleagues and friends have shared their opinions, content that might or might not be exactly about green building, because to me this represents community, and trust. When we're speaking openly, we're trusting each other. And to me, that trust in each other really is priceless. Yes, we plan to improve our platform design when we can, and revamp our code, but these are not this community's true value. It's the exciting and excited, and diverse, group of people and companies who have been joining recently and originally, and the words you have shared and will all share. Some recent pieces of I am particularly proud of include:

Someone I met very recently told me they wish more people would think more deeply about native landscaping and more sustainable solutions, and not "just" call for electrification (still a good idea, of course!) I agreed and said I was guilty of advocating for electrification quite loudly. But I also don't feel too guilty. I told this new acquaintance, well I amplify what people are willing to share! So, I hope he posts about native landscaping soon…! I also look forward to reading and sharing what everyone reading this news has to say. I hope that those who've already shared their opinions have inspired you to share something you've been thinking about.

Thank you for your sustainable efforts,
Allison
Click to see our full July news!

Allison Friedman
Founder, Rate It Green

Twitter: @rateitgreen
Facebook: @Rateitgreen
LinkedIn: Rate It Green
YouTube: Rate It Green Subscribe today!