The Numbers Are Out: Energy Efficiency Jobs in America Grow to More than 2.3 Million

Posted on: 09/18/2019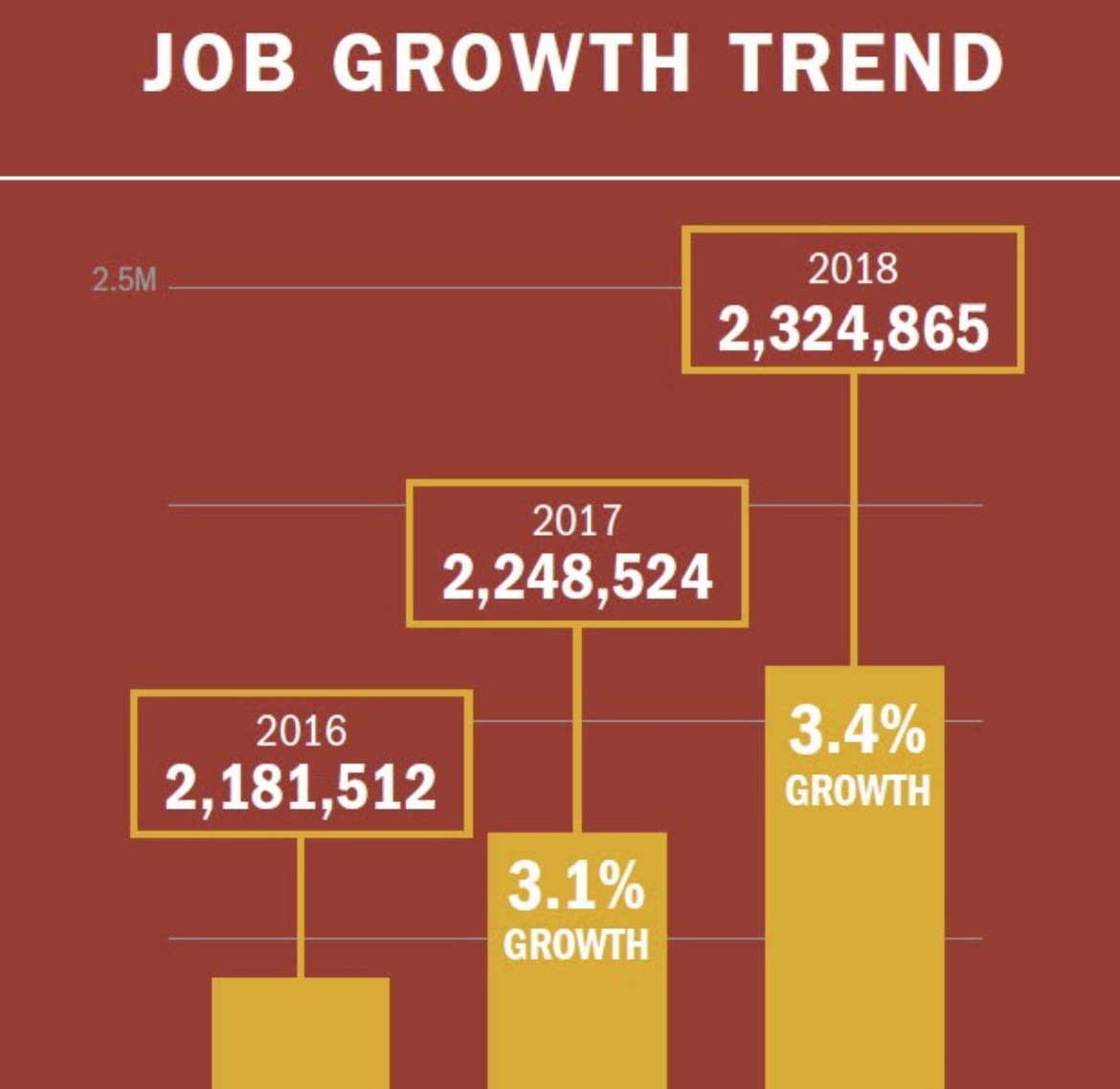 The third annual installment of Energy Efficiency Jobs in America brings expected good news in reporting continued growth in energy efficiency jobs to more than 2.3 million in 2019, with a current growth rate of 3.4% and an expected growth rate in the next year of 7.8%. The energy sector is now the largest sector of the economy, with energy efficiency as its fastest growing segment. No state experienced declines in energy efficiency employment in 2018. Efficiency businesses added 76,000 new jobs in 2018, accounting for half of all jobs added in America's energy sector (151,700). There are now over 360,000 energy efficiency businesses operating across the U.S.
Top figures include:
28% of U.S. energy workers are employed by energy efficiency businesses
EE now employs 2 times as many Americans as fossil fuel industries
There are workers in energy efficiency in every state and in virtually every U.S. county. More than 317,000 energy efficiency jobs are located in rural areas, while 928,000 jobs are found in the nation's top 25 metro areas.
10% of energy efficiency jobs are held by veterans — nearly double the national average of 6%
Small businesses are driving America's energy efficiency job boom, with 79% of energy efficiency businesses employing fewer than 20 workers
Where are energy efficiency jobs?
Construction and manufacturing make up more than 70% of U.S. energy efficiency jobs. More than one out of every six U.S. construction workers spend 50% or more of their time on energy efficiency (1.3 million workers)
321,000 energy efficiency jobs are in manufacturing
More than 1.1 million energy efficiency jobs are in heating, ventilation, and cooling technologies
Efficient lighting technologies employ 370,000 workers • ENERGY STAR appliances employ 167,000 workers
Energy Efficiency Jobs in America is published by E4TheFuture and E2 (Environmental Entrepreneurs). The report was released at the annual meeting of the National Association of State Energy Officials (NASEO) (9/15-18). "Energy Efficiency Jobs in America follows E2's Clean Jobs America analysis, which found that clean energy jobs account for nearly 3.3 million jobs across all 50 states and the District of Columbia. Both reports expand on data from the 2019 U.S. Energy and Employment Report (USEER) produced by the Energy Futures Initiative (EFI) in partnership with NASEO, using data collected and analyzed by BW Research Partnership. The report was released in March, and is available at www.usenergyjobs.org. E2 and E4TheFuture were both partners on the USEER, the fourth installment of the energy survey first released by the Department of Energy in 2016 and subsequently discontinued in the current adminsitration.

E2 and E4TheFuture will host an online panel discussion on Energy Efficiency Jobs in America 2019 oon Oct 1 featuring Keefe, Stanton, and authors of the report from BW Research Partnership. To register and attend the free event on October 1: https://zoom.us/webinar/register/WN_KV_VKfoPRzq_38OM99Q8PQ
Image: E4The Future