The Global Climate Strike is On - September 20 - 27! UN Climate Action Summit September 23

Posted on: 09/24/2019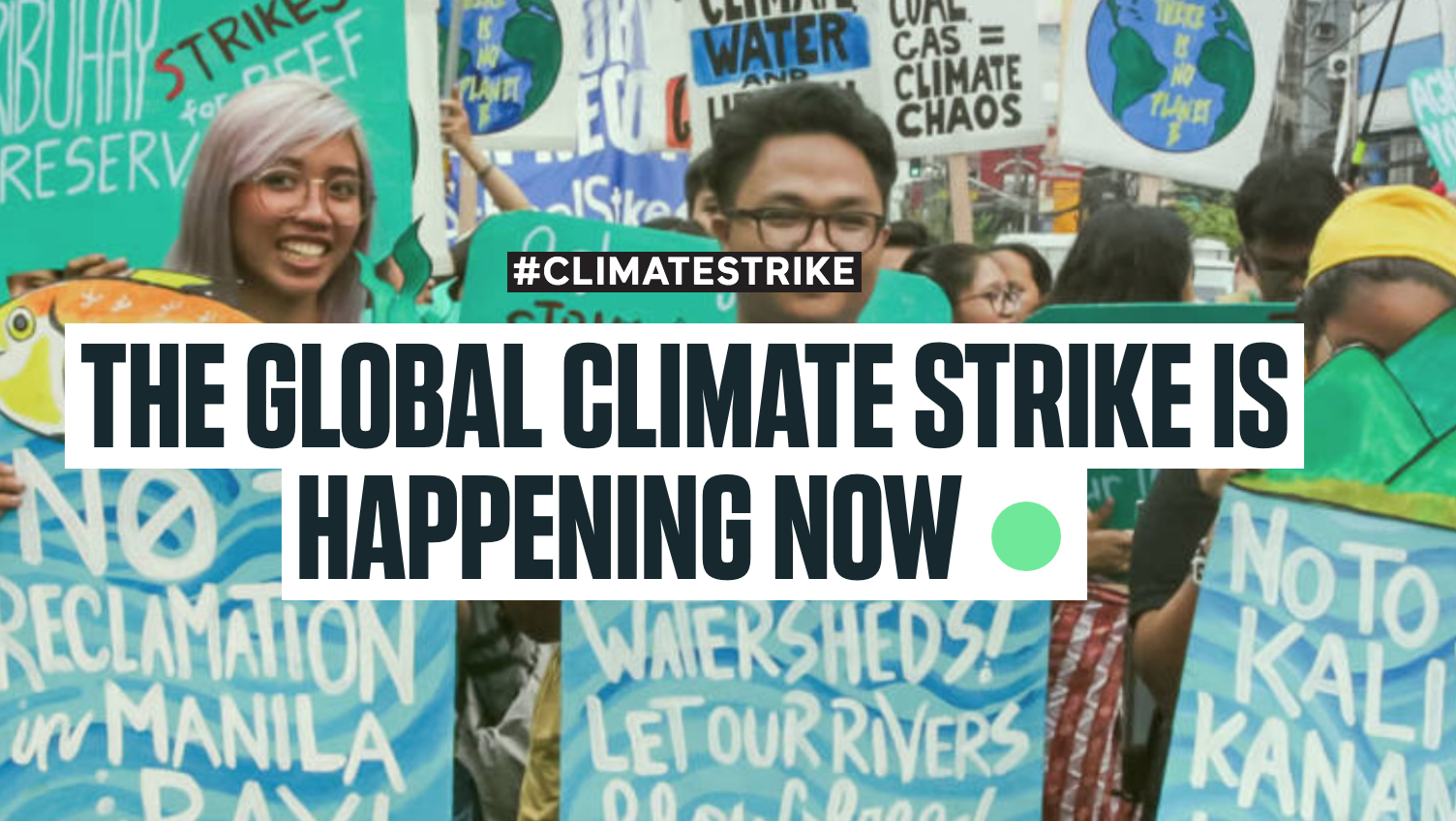 Image: https://globalclimatestrike.net
The Gobal Climate Strike kicked off on Friday, September 20, with strikes and protests around the globe, estimated by 350.org and The New York Times at an impressive 4 million people on day 1. Events as part of this global climate protest continue until September 27th. To find a strike near you, visit: https://globalclimatestrike.net/#map
According to the New York Times, "Rarely, if ever, has the modern world witnessed a youth movement so large and wide, spanning across societies rich and poor, tied together by a common... sense of rage." Many schools ended up giving permission for students to miss all or part of the day, while other parents found they were calling or writing in to excuse their own kids. (Some kids likely didn't wait for permission.)
Attending a protest in New York, Greta Thunberg, the young Swedish activist who started the Climate Strike movement with her Friday School Strikes asked, "We demand a safe future. Is that really too much to ask?" Thunberg also spoke at the UN Climate Summit on September 23.
UN Secretary-General António Guterres called upon on all leaders to come to New York for the Climate Action Summit with "concrete, realistic plans to enhance their nationally determined contributions by 2020, in line with reducing greenhouse gas emissions by 45 per cent over the next decade, and to net zero emissions by 2050."
The Climate Action Summit included nine interdependent tracks, with the aim of rasing initiative and accelerating action to implement the 2015 Paris Climate Agreement:
Enhancing climate mitigation of major emitting countries,
Social and political drivers, such as health, gender and security,
Youth and public mobilization, streamlining youth participation across all related topics,
Energy transition, including boosting renewables, energy efficiency, and storage,
Industry transition, creating stronger commitment from emission-heavy sectors such as steel and cement,
Infrastructure, cities and local action, to scale up ambitious commitments on low-emission and climate-resilient infrastructure,
Nature-based solutions, focusing on areas such as forests, smart agriculture and oceans,
Resilience and adaptation, focusing on integrating climate risks into public and private decision-making,
Climate finance and carbon-pricing, directing finance towards climate resilient development, with low greenhouse gas emissions
Over 70 sigificant announcements/commitments were made at the summit, some ramping up efforts beyond Paris Agreement levels. Some highlights:
Sebastián Piñera, the President of Chile, announced the creation of a "Climate Ambition Alliance", bringing together countries prepared to commit to enhanced action by 2020, and to work towards achieving zero net carbon dioxide emissions by 2050. The group currently includes 65 countries, 10 regions, 102 cities, 93 businesses and individual investors as well.
The Zero Carbon Buildings for All initiative will work towards make all buildings – new build and existing – net zero carbon by 2050. This initiative could potentially lead to a $1 trillion investment in developing countries, by 2030.
2000 cities committed to placing climate risk at the centre of their decision-making, planning and investments, including launching 1,000 bankable, climate-smart urban projects, and creating innovative financing mechanisms.
The Action Towards Climate Friendly Transport initiative includes actions to plan city development in a way that minimises travel, shift from fossil-fuelled vehicles to non-motorized and public transport, and increase the use of zero-emission technologies.
The Climate Investment Platform will seek to directly mobilize US$1 trillion in clean energy investment by 2025 in 20 least developed countries
The "Three Percent Club," a coalition of countries, businesses, and institutions, commit to putting in place more ambitious energy efficiency policies and working to drive a 3 percent annual global increase in energy efficiency.
With emissions from air conditioning and refrigeration expected to rise 90 percent from 2017 levels by 2050, The Cool Coalition will set ambitious cooling targets and support cross-sectional national strategies and policies such as National Cooling Action Plans.
The Global Campaign for Nature aims to conserve 30 percent of the Earth's lands and oceans by 2030.
All Climate Action Summit commitments can be viewed here: https://www.un.org/en/climatechange/assets/pdf/CAS_main_release.pdf

For more information:
https://globalclimatestrike.net/#map
https://www.nytimes.com/2019/09/20/climate/global-climate-strike.html
https://www.un.org/en/climatechange/assets/pdf/CAS_main_release.pdf
https://www.un.org/en/climatechange/