The Forgotten Side of Buildings

Posted on: 12/08/2022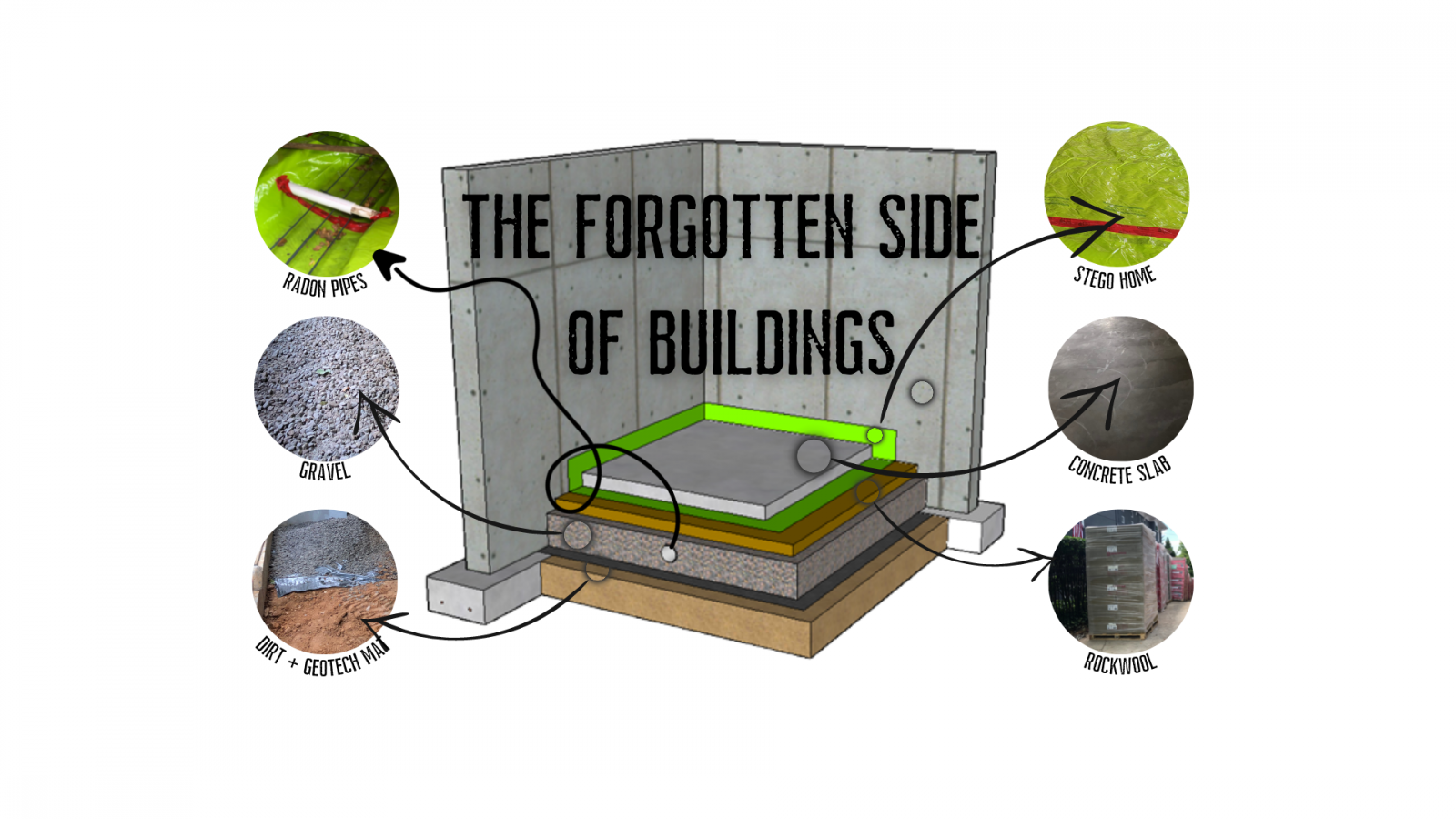 Rate It Green Members and Friends -

How much have most of us thought about the foundation of our homes, or any building? The answer is in large part, "not enough," even for many building professionals.

We often think that what we can't see or somehow perceive doesn't really matter and can't likely affect us, but that perspective undermines our comfort, health and safety, energy consumption and emissions, and our energy bills as well.

Most buildings are built to "meet code" and may not have radon control or thermal control. We basically "build it and forget it." The challenge is that all the cracks and seams and places we didn't seal up add up and then over time allow vapor, moisture, dangerous gases like radon, and other pollutants into the building. Occupants often then don't know if they are breathing mold, or if their home or office could be more comfortable, or how much energy is leaking in or out that shouldn't be, and doesn't have to be.

Green Builder Matt Hoots of Sawhorse Inc. thinks of the foundation or the bottom of the building as the often "forgotten side" of buildings (also called the "6th side of the building" by Rate It Green Member and Sponsor Clean Vapor. It's actually important to understand that once built and poured, we're stuck with a building's foundation. We might renovate a kitchen or bathroom for all kinds of reasons, and we can replace a roof every few decades or repair or retrofit or further weatherize as needed and advised, but a problematic foundation is often left unaddressed to cause further problems. By the time most people can perceive a foundation problem, it's likely already a catastrophic situation, and one that most likely could have been prevented.

The good news is that there are practices and products that if planned and installed correctly, we can use to make our basements support improved safety, comfort, and health. We can learn of course learn by example, and Matt and his team have been hard at work renovating the #1920sMakeoverATL Atlanta deep energy retrofit project, and virtual showhouse! Matt recently explained all about the sub slab foundation layers at the ATL house, which is also now slated to be Georgia's first residential Passive House project. Where a normal home in this climate zone might have compacted dirt, a thin vapor barrier, and concrete, the ATL team added four inches of insulation, a reinforced vapor barrier, and a passive radon mitigation system. Matt also created videos to review some of the specific steps and products in use for the foundation. As Matt says about radon control, the best builds start with a good design.

Check out additional pre-project and project discussions and videos on:
Want to learn more about the #1920'sMakeoverATL project? You can follow all developments on Rate It Green, and take the virtual tours as well with Mythos Media! What else are you most interested in learning about the project? Let us know!

What can you share from your projects? Think about how we can move green building practices and products forward if everyone can share what they've learned and as they learn or encounter situations and projects with great educational potential!
Click to see our full November Green Building News and Events!

Thank you,

Allison Friedman
Founder, Rate It Green

Twitter: @rateitgreen
Facebook: @Rateitgreen
LinkedIn: Rate It Green
YouTube: Rate It Green Subscribe today!