Important Conversations about Electrification - Rate It Green's June News

Posted on: 06/29/2021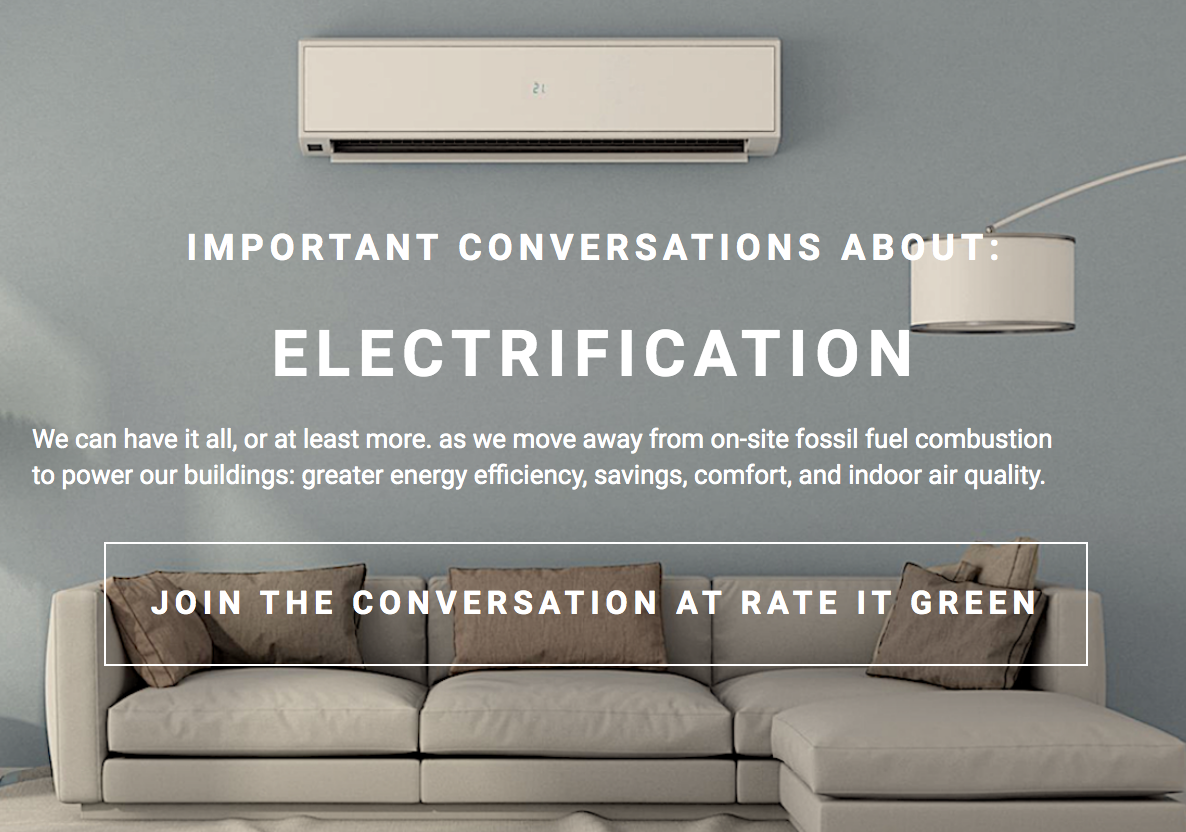 Members and Friends:

As extreme weather continues to increase energy demand at home and globally, particularly for air conditioning, it's a critical time to talk about building electrification. For more information and links to related discussions and articles, check out our full newsletter, at this link.
Building construction and operations consume approximately 40% of energy globally and also generate approximately 40% of greenhouse gas emissions. It's clear that key climate change mitigation goals will not be met without reaching net zero emissions by mid century. In other words, lowering emissions and increasing energy efficiency are not optional. So… it's a great time to be at the leading edge of this significant transition.
Why electrify? Switching away from fossil fuel combustion in favor of electrically powered appliances and equipment has multiple benefits for building professionals in addition to building occupants. Top reasons to electrify include:
Increase energy efficiency
Lower energy consumption (and save)
Lower installation costs (no gas hook ups)
Increase building control and occupant comfort
Lower indoor pollutants to protect occupant health
Lower emissions to protect environmental health
What appliances and equipment are we talking about? Top building electrification candidates are:
Heating and Cooling
Hot Water Heating
Cooking (especially important to human health)
Electric Vehicles (significant, and growing in numbers and impact)
See our update on the #1920sMakeover ATL Project (in the full newslwtter). Originally planned as a deep energy home retrofit, this project has gone all-electric and will now also be a Passive House! Check out the Pre-Construction Virtual Reality Tour, and stay tuned for a project tour and the final big reveal as well. Each tour contains links to relevant videos, articles, discussions, and more.
This month, we're highlighting several electrification videos, articles and discussions, but we'd also like to find out where you, our community members and friends, think we are regarding electrification. Are you seeing increased requests for electric powered equipment? Are you finding increased opportunities for client education, and your own education? Or, are you wondering how all of these terms like embodied and operational carbon and decarbonization are being thrown around when your city, town, company or organization, and/or clients don't seem to be on board? What are our next steps?
Let's start some discussions and find out together, and let's hear what we can do to help share more information about this topic and your related ideas and experiences.
Thank you,
Allison

Related content:

Building Electrification 101: Why it Matters to Your Wallet, Health, Comfort, and the Environment
Residential Decarbonization – Influencing Consumer Demand Before Inflection/Decision Making Points is Key
Reducing the Natural Gas "Bridge," for Human and Environmental Health
Heat Pumps - Energy Efficient and Cost Effective Heating & Cooling Solutions
Going Electric for Heating and Cooling, and Water Heating, in a Residential Retrofit - #1920sMakeoverATL (Video)
Learning About Electric Landscaping:
We're thrilled to share information about making the switch to electric landscaping, thanks to George Carrette of EcoQuiet Lawn Care, and to our friends at Husqvarna and Makita. These folks have shared expertise on topics including: Electric Landscaping 101, Why Landscaping Companies Should Consider Going Electric, Six Ways to Prep Your Yard for Electric Landscaping, Leaf Blower Bans and Other Noise Pollution Limits, and Exploring the Environmental, Health and Community Benefits of Electric Lawn and Garden Equipment. And last but not least: Electric Lawn and Garden Equipment - A Revolution in the Making.