On Twitter, Elon Musk Discusses Using Solar Technology Rebuild Puerto Rico - Can and Will Tesla Help?

Posted on: 10/09/2017
The power grid in Puerto Rico, already vulnerable, after a decade without maintenance, clearly suffered crippling damage when Hurricane Maria struck on September 20th. Though progress has been made, nearly three weeks later the vast majority of the island is still without power. About 80,000 of the island's customers are still without electricity, according to the power authority, PREPA. Earlier this week it was 200,000, according to PREPA's executive director Ricardo Ramos Rodríguez.
A conversation on how Elon Musk can rebuild Puerto Rico's energy grid started on October 5 when Twitter User Scott Stapf shared an article suggesting that now is the time for Puerto Rico to rethink how it gets its electricity, and asked Musk, if he could help the island using his solar system. Elon Musk replied that he and Tesla would be open to discussion - and the Governor of Puerto Rico soon chimed in.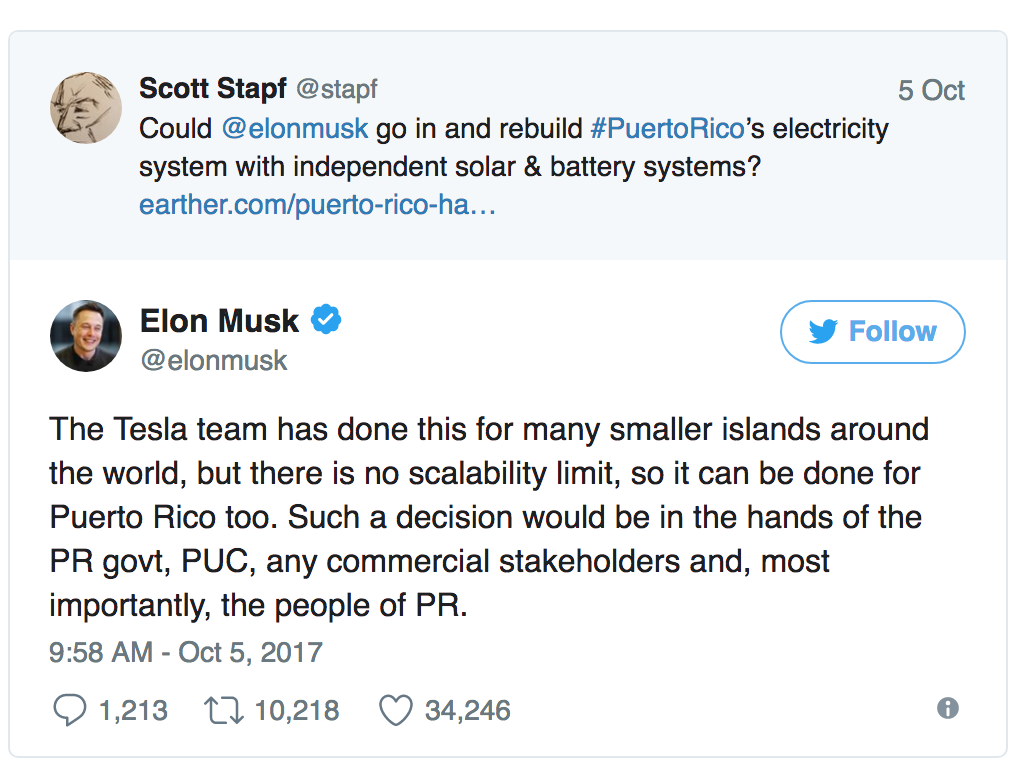 Elon Musk's firm SolarCity last year powered a small island almost entirely using solar power. The island of Ta'ū and its 600 residents have nearly 100 percent of their energy supplied by a solar power plant consisting of 5,328 solar panels, hooked up to a microgrid of battery storage systems. The batteries there can be used to store energy for up to three days without Sun.
A key question now is how Elon Musk and Puerto Rican Governor Ricardo Rossello will proceed from here about Musk and Tesla's willingness and ability to help rebuild the island's power grid. And if so, what would a Tesla-backed solar power project on Puerto Rico look like - and when could it start?
There are signs that help is on the way. Governor Rosello announced over the weekend that he had in fact been in touch with Mr. Musk and that more information will follow after some promising conversations. Elon Musk has already sent hundreds of Tesla Power Wall batteries to the island and has personally donated to relief efforts. Additionally, German company Sonnen has announced that it is shipping batteries to Puerto Rico from a US facility in Atlanta to help set up micro grids on the island. The company will be working with local companies in Puerto Rico for installation.
Hopefully more good news is to follow about how leading renewable energy companies, the US Government, and the people in Puerto Rico (also US Citizens!) can work to make the island both sustainable and strong going forward.
For more information:
https://www.theverge.com/2017/10/6/16438054/elon-musk-puerto-rico-solar-power-tesla
https://arstechnica.com/information-technology/2017/10/puerto-rico-in-talks-with-tesla-for-batteries-sonnen-to-help-build-microgrids/

Oyin
Boston, MA, united-states
0 Ratings
95 Discussions
271 Group posts

Oyin
Boston, MA, united-states
0 Ratings
95 Discussions
271 Group posts
Tesla has apparently already sent hundreds of PowerWall batteries to Puerto Rico to help restore power and to help the island start to recover. The Powerwalls can be paired with individual buildings that already have solar panels.

Recently, Elektrek Co. reported that Tesla's giant PowerPacks have also been spotted at the San Juan airport, days after after Tesla CEO Elon Musk tweeted Governor Ricardo Rossello about restoring the electric grid in Puerto Rico. PowerPacks offer grid level support and can be used to create microgrids or to work in conjunction with island utilities to being larger parts of the island back online. Elon Musk, has said on twitter that because of its importance and urgency, Powerpacks will be used for medical equipment as priority.

For more information:

http://www.businessinsider.com/tesla-powerpack-batteries-arrive-puerto-rico-2017-10

https://electrek.co/2017/10/15/tesla-powerpacks-puerto-rico/