Mayor Marty Walsh Launches "Carbon Free Boston" - Can the City Become Carbon Neutral by 2050?

Posted on: 11/29/2017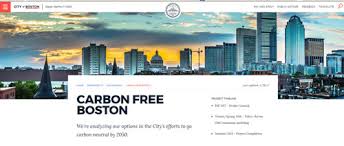 Mayor Walsh announces the launch of Carbon Free Boston and the first steps to look at options for the city to become carbon neutral by 2050.
Carbon Free Boston will analyze the cost and benefits of technology and policy options to reach Boston's carbon neutral goal. Working with the Green Ribbon Commission and Boston University, the team will quantify how various actions, policies and technologies can reduce Boston's greenhouse gas emissions. The results should be released in a report by the fall of 2018 and will be used to update the city's Climate Action Plan.
Boston's Climate Action Plan serves as Boston's roadmap for reaching its goals of reducing greenhouse gas emissions and preparing for the impacts of climate change.
As part of Carbon Free Boston, the City is moving forward with its Zero Waste Boston initiative to develop recommendations for a comprehensive zero waste plan.
For more information: https://www.boston.gov/departments/environment/carbon-free-boston