It's Time to Rethink How We Define "Ugly"

Posted on: 02/05/2022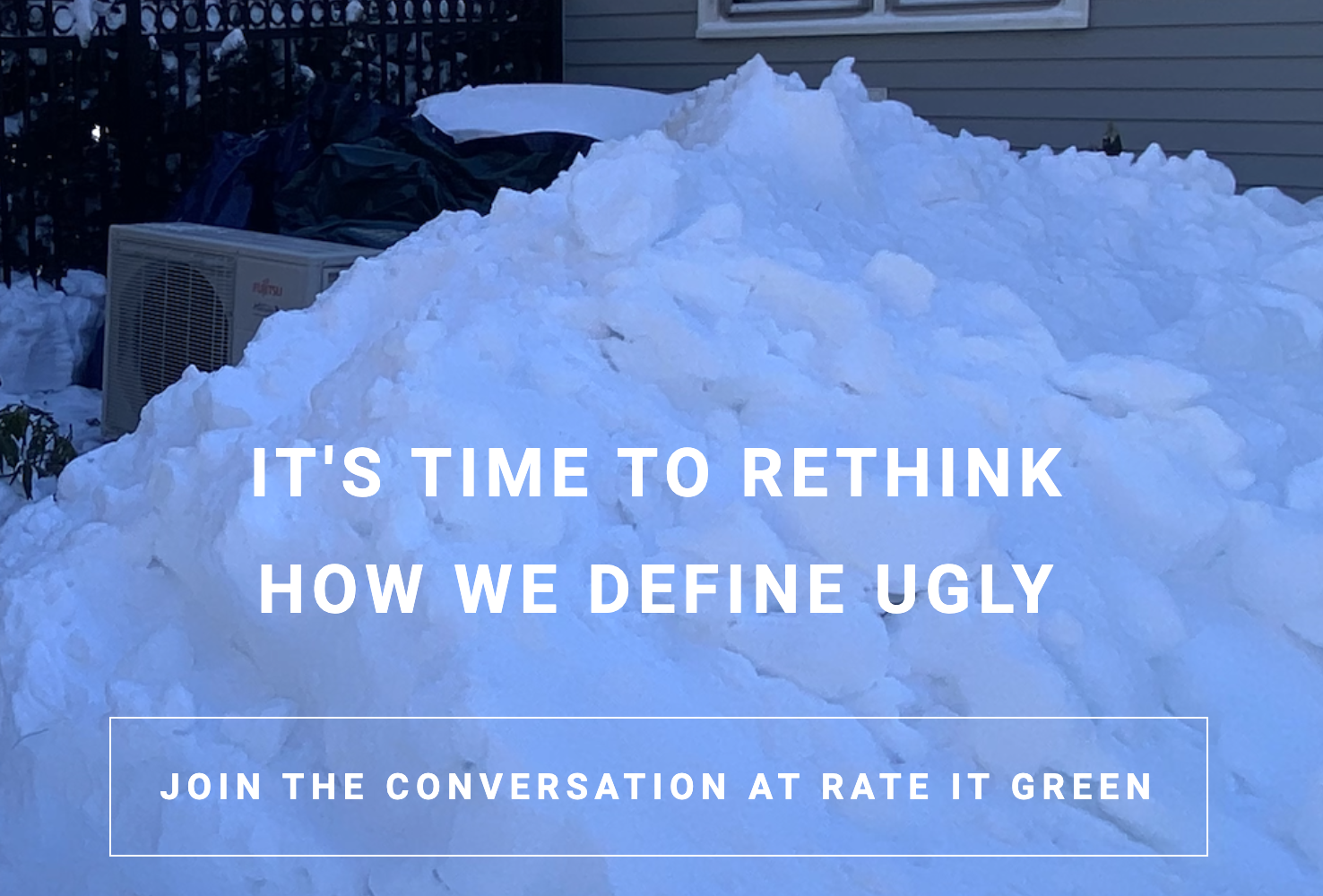 Members and Friends -
I've spent a good deal of time discussing win-wins, and last month in our newsletter introduction I suggested we need even BIGGER ideas and incentives/rewards. I still agree! I am so appreciative of the conversations I've had since, and I plan to report back on the great ideas some of you have shared. But also, I need to say that sometimes you can't "have it all" either, and that's ok. That's when we make the tough decisions, and the best, and smartest calls possible, given available conditions. In our news this month, I share what I hope will be a helpful and thought provoking example of my own, which I believe help us explore a need to reevaluate what we think of as "beautiful," or "ugly." Let's better balance looks, function and durability in the design, building, and construction industries. How an occupant will use technology might be more key than how it looks!

Retrofits are a good example of when you might just need to compromise and get the best result you can. We added a mini split a couple of years ago for a new space above a garage, and I was super excited. We also redid our backyard and the same time. So we were working with an architect, a landscape designer, a builder, and the HVAC company, among others of course. (I still have great relationships with some of these folks, so this is not a complaint as much as a lesson we should all learn from!) I recall asking the HVAC folks when the mini split compressor was located on the ground, maybe 4 inches up, "Hey, is that going to be a problem when it snows?" I got some pushback then and honestly ever since (which is why this isn't a complaint - MANY people seem to agree). The key argument is that there isn't really a choice given that this is an existing building without a lot of ideal spots, and that "it will look ugly" if we put the compressor on the building.

I appreciate people looking our for us regarding design, but I also suggest we redefine ugly. I don't want to dig out our mini split every storm, and I think there's risk to the equipment if we're running around with shovels swinging. I actually think I'd be proud to show of my current technology on the wall. I realize we might locate the equipment differently if we were siting a new building on this property, but we aren't. Note that for us, this is equipment for an added space. What if we had added several mini splits? We might face digging them out constantly or losing heating during a major storm? That sounds like a super ugly option to me!

The point of sharing lessons learned is to help other people make their own decisions in the same or a similar situation. I hope someone will learn from our experience, just so you can make your own best choice. As anyone I am communicating with knows, I clearly believe in the power of information sharing! I think our landscape designer should have been in touch with the architect and builder more, and we could have better discussed things like snow, and its relation to compressors and trees and heck, even where garbage cans should go. What looks great on paper and maybe even in theory, might not work ideally for the occupant (or the poor plow company) in practice.

So this month, I am of course happy to reaffirm my commitment to sharing and examples - please send your experiences in or just post them on the platform for others. I DO think we need the biggest, most fantastical ideas to sufficiently transform green building and cleaner energy practices and products, but a few things:

1. There are no bad ideas in brainstorming
2. We do better if we're all collaborating, and just communicating
3. Sharing your experiences and lessons learned as we of is always a good idea

This October, we asked for your "scary stories" you've learned from. That wasn't really a request tied to a particular Halloween time period, of course, even though that was fun. This mini split situation is a pesty lesson learned by me, and fixing it will cost time and effort and money. Generally speaking, most of us seem to agree it's better and much cheaper to prevent a problem than to have to pay to fix it later. So keep sharing your experiences, AND your big ideas. And let's try together to leverage them out current, efficient, healthy and sustainable technologies while sharing what we learn as we go.

And also, let's all really think about what it means if something is "ugly?" What's the top practical, environmental, or health need of the person who will be occupying a space in the built environment? Maybe we can redefine as beautiful as storm where I don't need to worry about our compressor!

Thank you,
Allison

Allison Friedman
Founder, Rate It Green

Twitter: @rateitgreen
Facebook: @Rateitgreen
LinkedIn: Rate It Green
YouTube: Rate It Green Subscribe today!