Future Proofing Homes - Building Right from the Start

Posted on: 06/29/2023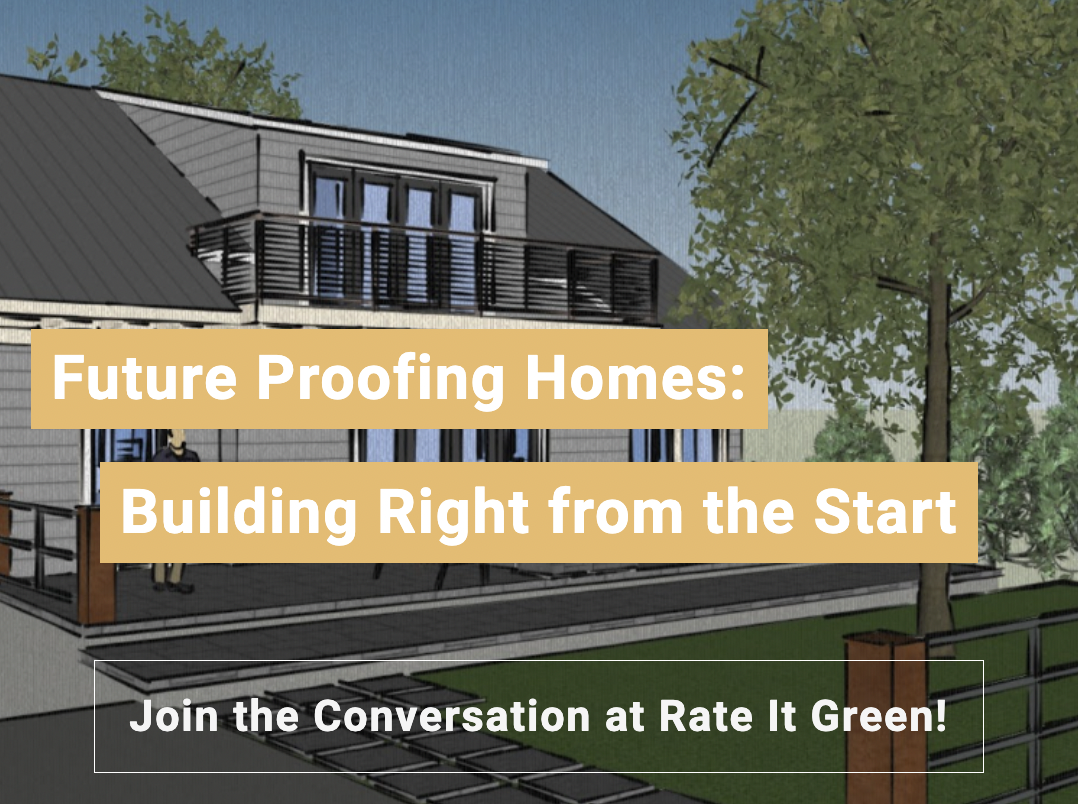 Rate It Green Members and Friends -

Fixing problems later sure costs a lot more than building right the first time, and sometimes a repair or retrofit is just impractical or not even possible. Future Proofing Homes or really any building involves planning and building to account for the scenarios one might reasonably predict for as people and even future occupants live and evolve throughout their time living in a structure. And the time to start planning is right at the beginning, when the project is first envisioned. I'd say Day 1, but if that's day 1 of construction, then it may already be too late to do the best job possible for all stakeholders.

For homeowners or occupants, future proofing includes thinking about various features and even layout ideas as a family changes, perhaps through the addition of family members or the aging of some or all building occupants. For building professionals, it's important to think about the parts of a building that are harder to change later, and that really affect durability and ease of operations and maintenance long into the future.

What can't builders easily fix later? Smart Future Proofing examples from Green Builder Matt Hoots of Sawhorse, Inc. include:

Matt and his project partners are building the #1920sMakeoverATL Deep Energy Retrofit in the Atlanta area to showcase top building practices, including how to turn the "leakiest home" around into the first Passive House retrofit in Georgia. Check out the project's videos, articles, and even the virtual reality tour, and please feel welcome to share your future proofing examples and other best practices as well.

The time to start thinking about how to prepare for the most durable, healthy, comfortable and sustainable building is at the very beginning of the design process for any new building. All stakeholders can contribute towards preventing problems before they occur and setting up a building for long term success and honestly all stakeholders have something to learn from each other and through each project.

Builders who are up to date on current best practices, who are open to learning, and who collaborate as much as possible an as soon as possible on each project (and generally) with design professionals, consultants and other stakeholders such as certification organizations have the best opportunity to build homes and buildings that will serve occupants well and will prove durable long into the future. Educated clients will also more likely make responsible decisions, so it's important to bring clients into the planning process, especially to explain opportunities that will provide long-term returns.

It's often said that green building is just smart building, and that's true. It's the same for future proofing. Why not prevent the problems we reasonably can, especially when we already know the opportunities afforded by some of these practices and products, and when we also already know some of the consequences of not getting it right?

What are your ideas for future proofing buildings or building more durable, sustainable, comfortable, and healthy buildings? Join the conversation, and comment on Matt's article, and/or submit your own article or discussion. Building right and better is possible now, and we make more progress together. Many builders are already incorporating leading edge practices into their projects. Let's hear about more inspiring examples!

Thank you,

Allison Friedman
Founder, Rate It Green

Twitter: @rateitgreen
Facebook: @Rateitgreen
LinkedIn: Rate It Green
YouTube: Rate It Green Subscribe today!