E2's Clean Energy Jobs America Report Released - 3.3 Million Clean Energy Jobs

Posted on: 03/14/2019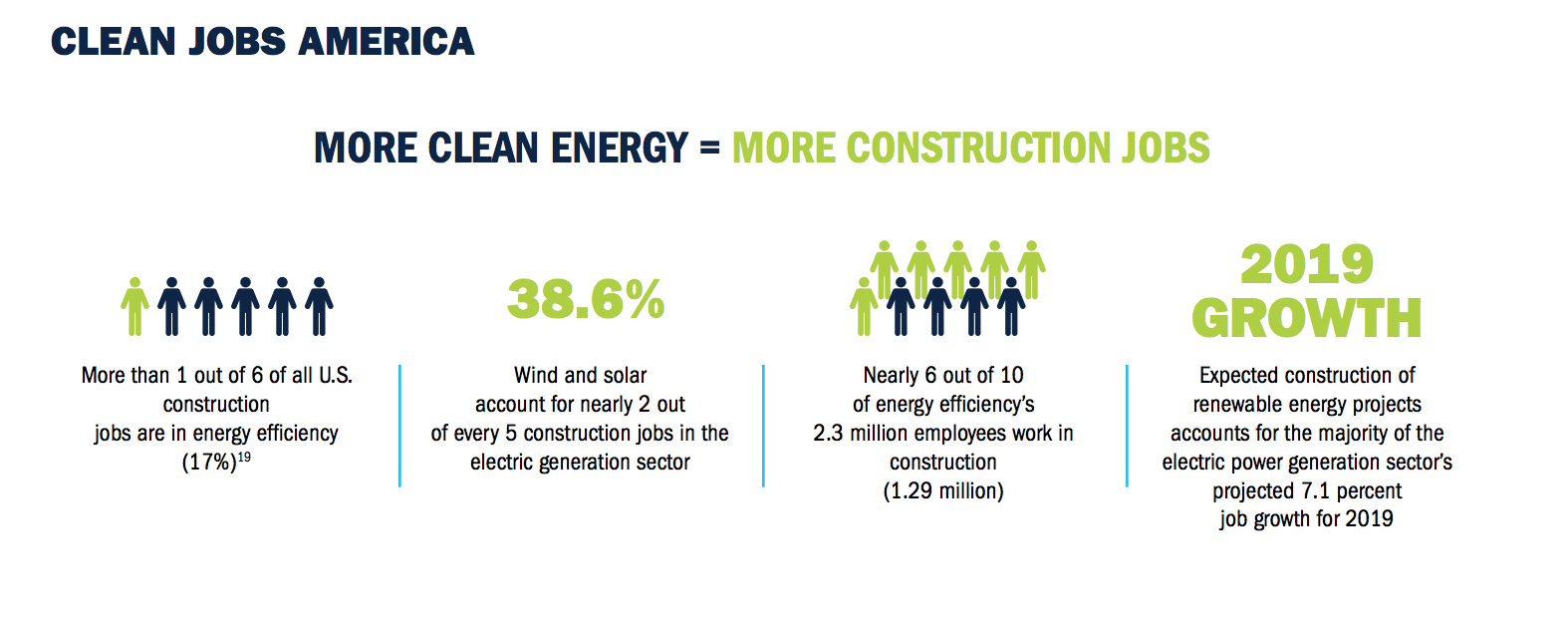 "In every region and every state in America, clean energy is creating jobs and careers.
Nationwide, nearly 50,000 new clean energy jobs were created in 2018, bringing the total number of Americans who work in clean energy to 3.26 million." - E2
According to E2, Clean Energy related jobs grew 3.6% in 2018, adding over 110,000 jobs nationally. Meanwhile, 12 states have or are considering policies to generate 100% of electricity from clean energy sources. 10 states already generate more than 20% of their electricity from wind and solar.
What are top sectors for clean energy jobs?
Energy Efficiency - 2.3 million jobs

76,000 jobs were added in this sector in 2018!

Solar and Wind - 446,000 jobs (335K, 111K, respectively)

Solar jobs experiences a slight decrease in 2018 after almost a decade of growth, possibly due to steel tariffs, but growth is expected again in 2019.
Wind jobs grew 3.5% in 2018, with all but 5 states seeing growth

Clean Vehicles - 255,000 jobs

Clean vehicles now make up approximately 13% of all motor vehicle jobs
Several hundred thousand additional employees now work on parts that make vehicles more energy efficient

Grid & Clean Storage- 139,000 jobs

This sector experiences 9% job growth in 2018, with a 380% surge in Nevada. California and Texas continue their lead in Grid and Clean Storage jobs.
How does the clean energy jobs map look for green building as a whole? More than 1 out of every 6 construction jobs (17%) relate to energy efficiency. Wind and Solar make up almost 2 out of every 5 construction jobs in the electric generation segment.
Apparently, more than 85% of Americans support requiring utilities in their state to produce 100 percent of electricity from clean energy sources by 2050 (source: Yale). A majority of Americans (58%) agree that policies to transition from fossil fuels to clean energy will improve economic growth and create new jobs. Why? Because it's true!
What are the top clean energy jobs states? What is the potential size of this market? Want to learn more about clean energy storage jobs? To learn more: https://www.e2.org/wp-content/uploads/2018/05/Clean-Jobs-America-2019-E2.pdf