Celebrating the Leading Edge

Posted on: 04/26/2022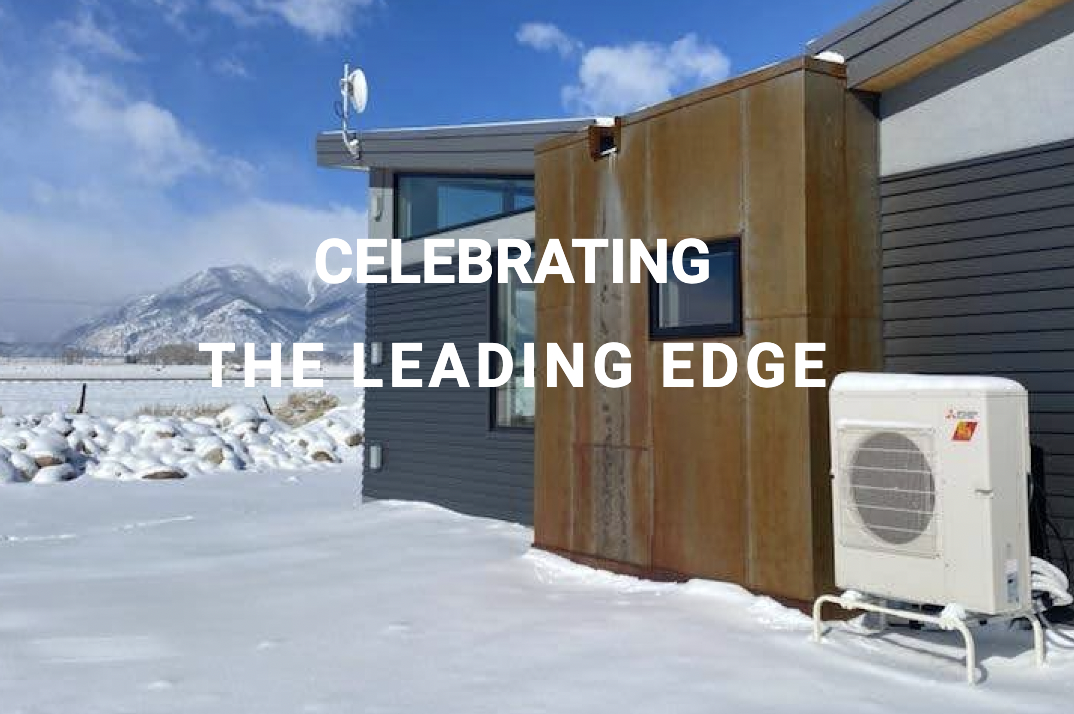 Rate It Green Members and Friends -

Some recent events and news have made it tougher to leap into spring with a bounce for many of us. It's impossible to ignore an unfathomable war, prices are increasing and supply chains are lengthening, COVID is confusing and stressful and has uneven impacts, and the IPCC keeps trying to convince those who deny climate change that it's real and actually very scary. The IPCC is also asking the rest of us to act faster, and sometimes it seems we can't bring about or be part of change fast enough.

if you're finding that it (still) isn't always easy to be green, or even savvy and fortunate enough to grab the win wins that come with energy efficiency, savings and increased health and comfort through sustainable and healthy building practices and products, I hope this letter can do some good for you. I was feeling kind of frustrated myself and was going to write mainly about how we just need to make it easier to make great choices already, darn it. And I do feel that way. Many of you, especially those from New England, likely remember the clever Staples campaign they never should have gotten rid of in my opinion….You know, "That was easy!" Imagine if we did that for sustainable and healthy building?! You know, showing people laughing about their retrofits and enjoying their new quiet and efficient heat pumps… and driving off in their EV's, with maybe some great music playing, too. You get the point.

The thing is, I was feeling cranky, and then two things happened. First, a colleague (ok, thanks Matt Hoots of Sawhorse, Inc.) cheered me up and said we ARE making progress, darn it. Of course the last couple of years have been difficult, but he reminded me of some positive changes we've literally reported on in a few key segments. For example:
Ventilation: Just a couple of years ago even, some great energy efficient products were emerging, but most had on/off capability and weren't yet reactive. We've been talking to Aprilaire, Broan-NuTone LLC, Mitsubishi, Panasonic, and others about exciting reactive ventilation developments. Equipment can now be set to turn on and off in programmed conditions, which will improve air quality AND save energy and money.
Monitoring and Sensors: Equipment is increasingly intelligent generally, and more is on the way! In addition to HVAC equipment, we've recently profiled Sensor Industries about water leak monitoring, and Swidget about wireless monitoring, for a number of applications including ventilation and IAQ.
Electrification has also rapidly gone from more of a fringe or expert concept to more mainstream! For example, heat pumps are exploding in popularity, and actual installs, and we're also seeing progress in water heating, cooking, and of course, EVs and other equipment and appliances. Check out SIEMEN's game-changing collaboration with Ford on the F-150 lightning charger! We've also been reporting on the progress of electric lawn equipment and service providers.
Second, Matt recently profiled one of those cool products that just makes you smile and say, "Wait, why wasn't this done before?" His interview with rheia about their Comfort By Design smaller duct air distribution system is generating a lot of excitement. Why would we not want to save labor and time, save energy, and improve air quality and comfort, among other benefits??

Good news can't come fast enough, or just "enough." But I am reminded that we are indeed seeing progress. What's your top news? How do you help move us all forward to achieve existing win wins or reach for new ones? Sharing excitement and helping people and organizations find answers and solutions together is why we're here. Add your company, individual profile, and voice, news, and expertise to our open and growing Rate It Green community, and let's have more impact, and put more people in a better mood.

Click to read our full April news!