Amherst's Hitchcock Center Becomes the 23rd Living Building Worldwide

Posted on: 05/22/2019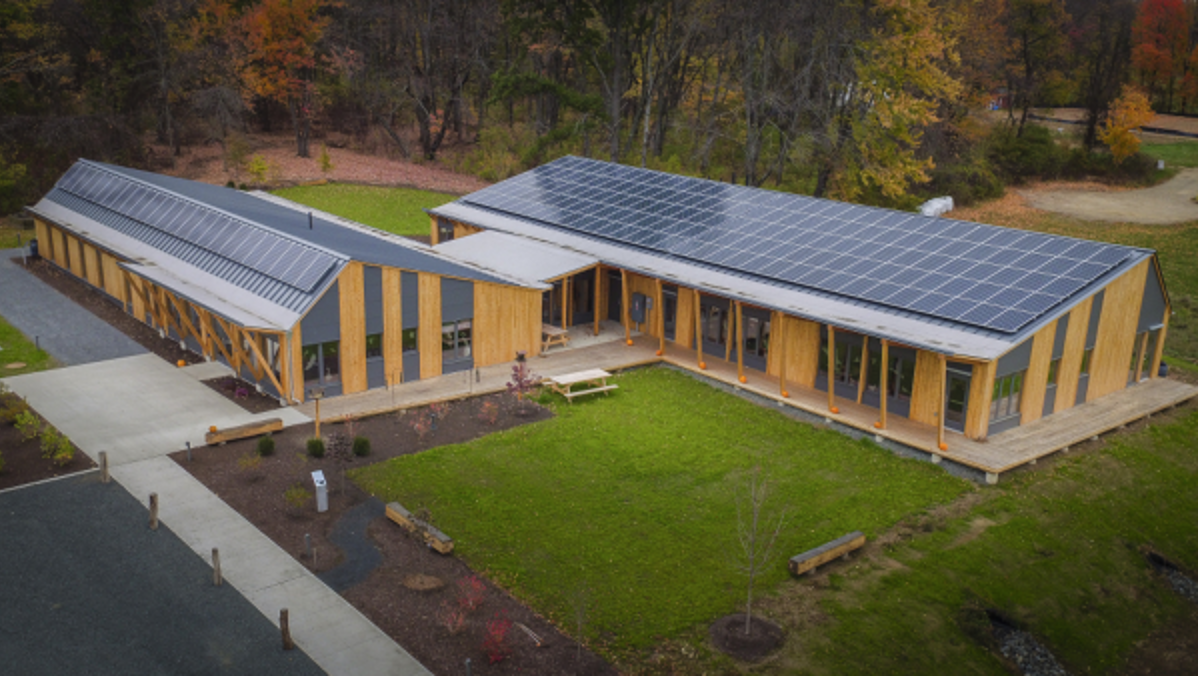 Amherst's Hitchcock Center for the Environment is the 23rd building globally and the 4th in Massachusetts to earn the prestigious Living Building certification from the Living Future Institute. The net zero energy building harvests and recycles its own water, contains composting toilets, and was constructed with responsibly sourced, nontoxic materials.
At a May 2 award ceremony, Director Julie Johnson said she sees the self sufficient and healthy building as a "hopeful place" and critical to confronting climate change, environmental toxins, habitat loss and species extinction. She also considers the building itself a teaching tool that staff and faculty use daily to educate students and visitors.
Designed to meet rigorous environmental standards, the building had one final hurdle to clear in operating for a continuous year meeting strict Living Building performance criteria for net zero energy, water and waste, as well as making use of locally sourced, nontoxic building materials and native plants, as well as making use of alternative modes of transportation.
Check out the Hitchcock Center's real-time performance dashboard at hitchcockcenter.org.
In 2016, the Hitchcock Center for the Environment concluded Phase One of its Building for the Future campaign, with 3 top goals:
Design and construct a building that
will meet the most advanced measure of sustainability in our built environment through the Living Building Challenge™.
Triple the building's capacity for educating the next generation of environmental decision makers, advocates, and leaders through three exhibits and adaptive state-of-the-art educational classrooms, a welcoming and engaging Visitor Center, and a community meeting room.
Implement an innovative exhibit plan that demonstrates how we can use nature's wisdom to create a healthier and more sustainable future.
The Center is currently engaged in a project to raise funds for Phase Two, with additional goal to create "a world-class environmental education center that draws upon lessons learned from nature to create a sustainable future."
Click here to view an interactive building dashboard (best viewed on a laptop or computer screen) to see how the building functions.
For more information:

https://www.hitchcockcenter.org/our-living-building-project/
https://www.gazettenet.com/Hitchcock-Center-for-the-Environment-in-Amherst-earns-recognition-for-its-building-25417232