Investing in Green Building Can Lead to Better Health and Productivity


Some clear reasons to build green include the environmental benefits as well as the lower energy costs of green buildings. However, a third main reason that may not be as obvious involves the health benefits of building green, many of which are potentially significant.

Some health issues linked to building conditions are:
- Chronic diseases such as asthma or COPD that are due to mold, moisture, allergens or chemical contaminants
- Cardiovascular disease due to heat/cold stress or lead exposure
- Cognitive function problems due to excess carbon monoxide and poor ventilation
- Mental health problems due to lighting, temperature and noise

A 2014 study, Moving into Green Housing: The Yield, was conducted to investigate the exact connection between home performance and health. Key elements of the green renovations involved ventilation, higher efficiency heating systems, insulation, low toxic materials, roof/window flashing, bath/kitchen fans, moisture controls and less carpet. The long term results include improved child general health, improved adult mental health, and improved adult angina, hay fever, and sinusitis. A noteworthy improvement is that there were 12% less asthma related emergency department visits after the renovations. So there is indeed a correlation between green building and better health; some states and institutions are even starting to fund green upgrades for high risk asthmatics.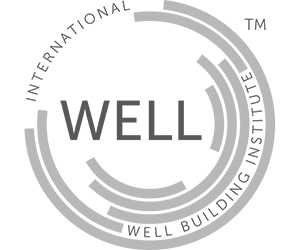 These discoveries go beyond benefitting only the family household. The Impact of Green Buildings on Cognitive Function study revealed that if a company spent in between $14 to $40 per person annually on improving the indoor air environment, each employee's productivity could increase by $6,500 per year. With these surprising benefits ofgreen building becoming better known, the International Well Building Institute launched the WELL building system, a certification system that measures the impact of building features on health and well-being. The WELL Building Standard looks at features such as air quality, water quality, lighting, and comfort. Another rating system, developed by the GSA (U.S. General Services Admission) and the CDC (Center for Disease Control), is the Fitwel certification which focuses on the health and wellness of employees in the work environment.

These certification systems reflect how green building is evolving to incorporate elements of health and productivity. Some green building specialists are even starting to draw distinctions between health and comfort and concluded that any complaint of building-related symptoms should be investigated, even if it is not directly linked to a definable disease. Creative activity is also becoming an important factor in maintaining a healthy and productive mind. It is becoming generally agreed that people need an interesting and aesthetically pleasing environment, sensory stimulation similar to that found in the natural environment, and connection to the natural world.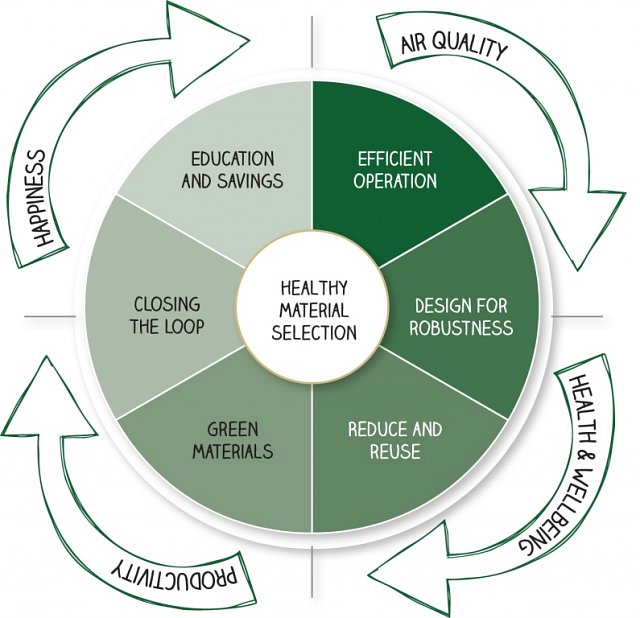 This is a real shift from the simple cubicle workspace that most people think of when they picture an office, which offers the bare minimum to an employee and allows for little creativity. However, it makes sense that mentally and physically healthier employees will be more productive. Therefore, making small investments into green renovations will benefit both the employers and the employees.

The health benefits of green building are a great discovery for more than one reason. The obvious one is that it leads to better health. However, it also gives an additional compelling reason for people to build or renovate in a green manner, whether in the context of a personal home or a larger company building. As the health benefits of green buildings become common knowledge, more people will be enticed to build green, even if they are not (yet) convinced by environmental, efficiency, or other reasons.

For more information on the "The Health Benefits of Home Performance": https://greenhomeinstitute.org/courses/health-benefits-home-performance/

For more information on the advantages of working in a green building: http://www.eco-business.com/news/the-hidden-health-benefits-of-green-buildings/

For more information on the studies:
NaturalLeader.com: http://naturalleader.com/thecogfxstudy/
Journal of Public Health, Management & Practice (JPHMP): http://biy/ly/2rUkf7D

I am a student at McGill University who is both passionate about sustainability and about spreading knowledge of new green products and services.
( 0 ) Ratings
( 4 ) Discussions
( 1 ) Group Posts
Reply/Leave a Comment (You must be logged in to leave a comment)
Connect with us!
Subscribe to our monthly newsletter:
Read More


Sponsored Listings
Related Posts
Read More