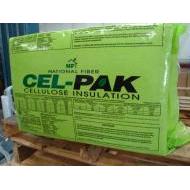 9.9
Manufactured in:
Massachusetts 01007
United States
Brand name: Cel-Pak
Submit a Rating
Cel-Pak Cellulose Insulation
Categories: Cellulose Insulation
Description: National Fiber''s Cel-Pak is a high quality, all borate, loose fill cellulose insulation for blowing caps in attics and dense packing in walls and ceiling cavities either for retrofit or new construction. The borate infused cellulose offers exceptional thermal properties that is 40 times better than fiberglass. Dense-packing cellulose continues to retain heat in your home or building no matter how cold it gets - fiberglass loses its effectiveness when the temperature drops below freezing. The borates also act as a natural fire retardant that actually protects your home better than fiberglass or foam insulations. In addition, because cellulose fills in the gaps  and leaves no voids, the high density material absorbs sound leaving your home or building protected. Since airflow accounts for 98 of the moisture movement in a structure, the density of cellulose blocks that movement and does not require vapor barriers. The borates also act as a natural mold inhibitor to protect the substrates it is in contact with. These same borates also repel insects and vermin, such as mice, cockroaches, and termites.
LEED Credits:
EA Prerequisite 2 - Minimum Energy Performance
EA Credit 1 - Optimize Energy Performance
MR Credit 4 - Recycled Content
Average Ratings: 9.9
(Based on 7 ratings)
| | | | |
| --- | --- | --- | --- |
| Overall | | Raw materials | |
| Toxicity | | Manufacturing/Shipping | |
| Installation/Application | | Quality/Durability | |
| First cost/price | | Corporate Policies | |
| Resource Recovery | | Lifecycle cost | |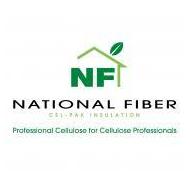 Company: National Fiber
Address: 50 Depot Street, Belchertown, MA 01007, United States
Website: http://www.nationalfiber.com/
We are a Home Performance contractor that installs cellulose as one of our "tools" to increase the energy efficiency of a home. I like working with the Cel-Pak. It is a very clean and consistent product and I don't have to worry about it being caustic like those cellulose products that contain ammonium sulphate. I also feel good using it because it has just about the least environmental impact of any insulation. If we spill some on the ground, the rain will soon wash out the borate and then it can quickly compost, unlike other insulations that will stay around for a long long time. Tech support from National Fiber has been outstanding.
Rated by Building Performance Services LLC // Company Rep [04/01/2010]
See rating details
This is one of the only companies that I have worked with in the last 30 plus years that actually cares about its customers-contractors. They help our company in any way they can. They are always there with answers and ideas. Meetings to help increase business. Training, tools and equipment and parts. I am overwhelmed by they way they think. They take care of their customers the way I do.
Rated by Dolphin Insulation [03/30/2010]
See rating details
Our remodeling and energy retrofit company has used Cel-Pak cellulose from national Fiber on several projects. We have applied it as loose fill attic blanket and subcontracted for it to be blown in to cavities. I value the product for its resource virtues as it is made from a recycled product . It has less embodied energy than some other insulations and this includes the advantage that it is made locally so transportation is not a major factor. One doubt I have concerns the rate of application guidelines provided with the product. I have found that coverage calculations have not provided accurate quantities so that we have had to make additional purchases of material to achieve specified depth in loose fill application. This should be considered only a preliminary caution because we have not followed up with controlled testing to verify the discrepancy.
Rated by Green Home Carpentry & Design // Sustainable Remodeling Professional [01/30/2010]
See rating details
Cel-Pak is an outstanding product. Among the things I love about this product : It has an 82% recycled content, it is produced in New England (specifically Massachusetts), and it offers an excellent barrier to air infiltration. It also does a terrific job in noise reduction. My research says that Cel-Pak is not only a great insulation, but cleaner and more eco-friendly than other cellulose insulations. It is also an 'all borate' formulation (in terms of fire resistance). When I insulated my attic, I didn't want to add any products that contained ammonia based fire retardants, and Cel-Pak, unlike a lot of competing cellulose products, doesn't. Great product!
Rated by GreenConsultant [12/18/2009]
See rating details
I just had this put into my house a few months ago and i never knew such a green product existed. I am told it has been around since the 1920s. My bills are half of what they used to be and the house is very quiet. I recommend this to everyone.
Rated by Vick [06/18/2009]
See rating details