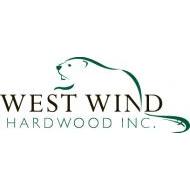 Locate on map
P.O. Box 2205
Sidney, BC V8L 3S8 Canada
Phone: 250-656-0848
Fax: 250-656-9663
West Wind Hardwood, Inc.
Description: We offer lumber hardwoods & softwoods, specialty plywood & veneer and wood flooring custom & brand-name. We are FSC- and SmartWood-certified. In addtion, we are distrubutors for a Oli-Natura, a line European-made natural wood finishes.
Environmental Statement: West Wind Hardwood Inc. offers a wide range of forest products from FSC-certified forests, as well as from recycled and salvaged sources. We value and respect wood, trees and our environment. They are our livelihood, and as such we promote their responsible use.
Company Type: Manufacturer
Industry Type: Construction Materials - Lumber, Wood Production and Timber Operations, Floor Coverings
Market Scope: International
Awards: FSC- and SmartWood- Certified.