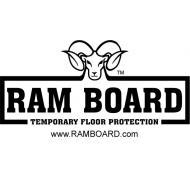 Locate on map
716 S. Flower St.
Burbank, CA 91502 United States
Phone: 818-848-0400
Ram Board
Description: Manufacturer of heavy-duty, breathable, 100% recycled, temporary floor protection.
Environmental Statement: Ram Board is an FSC certified product that is 100% Recycled with a minimum of 90% Post-consumer materials. The product is re-usable and recyclable.
Company Type: Manufacturer
Industry Type: Cement and Concrete, Construction Materials - Aggregates, Concrete and Timber Operations, Construction Materials - Lumber, Wood Production and Timber Operations, Construction - Commercial and Heavy Construction, Construction - Residential Construction, Floor Coverings, Masonry, Retail, Tile
Market Scope: International
Certifications FSC Certification

Rating:










Based on

1

reviews
Heavy duty Flex-Fiber temporary floor protection. Lays fast and flat and is breathable, allowing the continued curing of floors. Used for any hard surface: concrete, hardwood, tile, terrazzo, vct, epoxy, stained concrete.