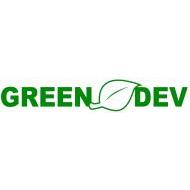 Locate on map
10118 Belleville
Montreal, QC H1H4Z5 Canada
GreenDev
Description: GreenDev is a start-up company focused on environmental sustainability throughout the Montreal region. It was established by two young entrepreneurs who were determined to change the way individuals and organizations develop our great city. The focal point of this partnership is centered on the green roofing movement; primarily through the installation of pre-vegetated or urban agricultural roofing systems. This joint venture has also incorporated the advocacy of sustainable building products through their network of affiliates and partners.
Environmental Statement: GreenDev's passion comes from an awareness of each person's environmental and social responsibility. GreenDev strives to encourage and endorse the usage of eco-friendly.
Company Type: Service Provider, Distributor, Manufacturer's Representative
Industry Type: Construction - Residential Construction, Consulting - Green Building, Consumer Products - Other, Distribution
Certifications LiveRoof Certified Installers

The installation and management of the LiveRoof pre-vegetated green roofing system.