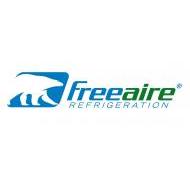 Locate on map
151-8 Mad River Canoe Road Waitsfield
Waitsfield, VT 05673 United States
Phone: 802-496-5205
Fax: 802-329-2235
Freeaire Refrigeration
Description: Freeaire Refrigeration manufactures energy-saving commercial refrigeration equipment and controls for walk-in coolers, feezers, server rooms and refrigerated warehouses.
Environmental Statement: Freeaire refrigeration products are intended to offer accurate and reliable refrigeration control as efficiently as possible.
Company Type: Manufacturer
Market Scope: International
Awards: 2011 Vermont Environment Leadership "What a Great Idea" award
2004 Arctic Energy Alliance Energy Efficiency award
Endorsements Efficiency VT Efficiency Nova Scotia National Grid

An green, energy-efficient commercial refrigeration system for walk-in coolers, freezers, server rooms, and refrigerated warehouse for controlling compressor-base refrigeration equipment in any climate and outside air fans for using polar energy in colder climates.