Architecture 2030 and the International Living Future Institute update their Net Zero Energy Goals

Passive House / Sustainability Enthusiast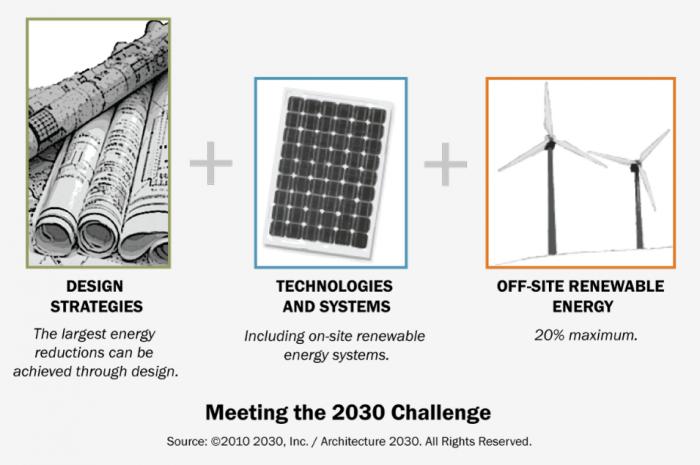 Architecture 2030 and the International Living Future Institute (ILFI) are making an effort to grow their energy efficiency reporting and certification programs. Both the 2030 Challenge and the Living Building Challenge (LBC) have encouraged progressive designers and owners with aspirational goals that are eminently hard to achieve. New policies announced on March 8, 2017, are intended to remove unnecessary barriers to certifications and scale up engagement with their reporting and certification programs.
The International Living Future Institute (ILFI) has collaborated with Architecture 2030 to update their 'Reveal' label - an easy-to-understand method of displaying the energy performance of a building. Reveal is designed for architects, managers, owners, 2030 Challenge adopters, and AIA 2030 Commitment signatories who want the validation and confirmation of a third-party verification for their building's energy performance.
Some of the most efficient buildings in the world are reducing their energy use by as much as 90% from average, and Reveal helps these buildings highlight their energy performance with an elegant label and a third-party verification.
The Reveal label displays a building's Energy Use Intensity (EUI), Zero Energy Performance Index (ZEPI) score in collaboration with the New Buildings Institute, reduction in energy use from the 2030 Challenge baseline, and onsite and offsite renewable energy generation.
Architecture 2030's new Zero Tool:
The 2030 Challenge relies on the U.S. Environmental Protection Agency's (EPA) Target Finder tool to establish the benchmarks and energy use intensity (EUI) targets. Target Finder, in turn, through its Energy Star and Portfolio Manager platform, is based on energy use data from the Commercial Buildings Energy Consumption Survey (CBECS).
EPA is in the process of updating its tools from the 2003 CBECS to 2012, which would change all the benchmark EUIs that designers and owners have been striving to meet. Architecture 2030 strongly encouraged EPA to maintain the CBECS 2003 database because it's the basis for all 2030 Challenge baselines, but unfortunately, they were unable to do so. Rather than moving the goal lines midway, Architecture 2030 elected to replicate Target Finder's functionality and lock in the CBECS 2003 baselines.
Architecture 2030's new Zero Tool builds upon Target Finder's features, providing a graphic display of baselines, targets, and existing building performance, and allowing users to compare data normalized by climate, building size, occupancy, and schedule. It will be the new reference for all projects being measured against the 2030 Challenge, including AIA's Design Data Exchange (DDx) reporting tool.
Collaboration between the Zero Tool and Reveal:
The newly updated Reveal label will operate as a third-party verification tool for sustainability initiatives such as the 2030 Challenge and the AIA 2030 Commitment. In essence, the 2030 Challenge adopters and 2030 Commitment signatories can use Architecture 2030's new Zero Tool to generate their post-occupancy building data and submit that data to the Reveal program for a third-party verification to demonstrate that a project meets the challenge targets.
2030 District members can also validate their compliance with the 2030 Challenge targets by using the Zero Tool and submitting their building's performance to the Reveal program for a third-party verification.
What's new with ILFI's Net Zero Energy programs?
ILFI has substantially simplified their Net Zero Energy (NZE) Certification process to enable applicants to take their projects to the finish line. They have streamlined NZE certification process and documentation requirements to help save time and money. They have revised their performance information to be clearer and more straightforward.
Recognizing that many projects in the market are interested in being certified to net zero but find it rather challenging to meet all the compliance standards, ILFI has eliminated those facets of the program. Now the certification takes you to the heart of the program – net zero energy performance. ILFI has removed their previous requirements of Limits to Growth, Beauty, Inspiration and, Education.
In addition, to manage its own costs in running the p
…
read more!
( 0 ) Ratings
( 53 ) Discussions
( 79 ) Group Posts
Reply/Leave a Comment (You must be logged in to leave a comment)
Connect with us!
Subscribe to our monthly newsletter:
Read More


Sponsored Listings
Related Posts
Read More